5

technologies that have the potential to transform our healthcare system

How can technology transform our healthcare systems? From wearables to in-vitro diagnostics, here are five technologies to keep an eye out for.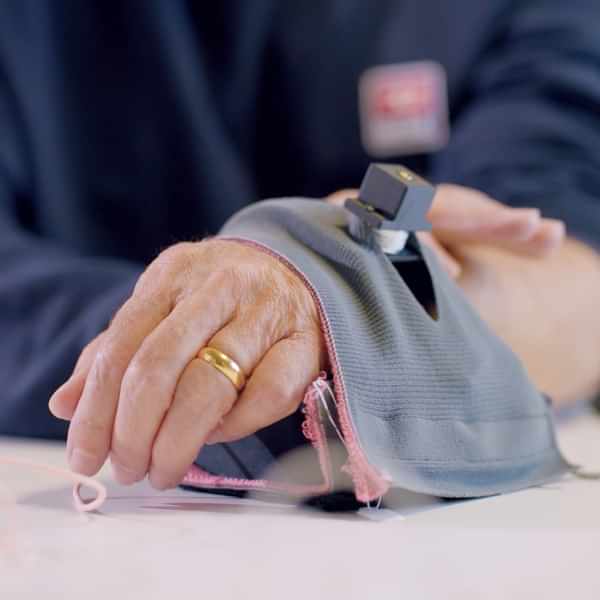 From smart packaging to just-in-time manufacturing, here are five technologies that have the potential to revolutionise healthcare.
In 1978, 30 years to the day after the birth of the NHS, the world's first IVF test-tube baby was born at The Royal Oldham Hospital. Louise Brown may have weighed just 2.6kg, but her arrival represented a big landmark. Since then, at least 12 million IVF children have been born.
Advances such as this underline how far healthcare has come since the NHS was founded in 1948 — and the rate of medical progress shows no sign of slowing down. In fact, with AI and digitalisation continuing to transform the healthcare sector, if anything, it's speeding up. Also, according to MedTech Europe, Medical Technology has been top or second largest in terms of European patents since 2015!
Here are five innovations set to shape the healthcare systems of the future.
Wearable technology
The European Parliament long ago identified wearables as one of the ten technologies that would change our lives – and indeed they have, with potentially transformative implications for healthcare research and the healthcare system going forward.
E‑textiles are an example of one such development in the wearables sector – fabrics with integrated electronic components, such as sensors and batteries. Development in this field could offer a whole range of healthcare applications, including the diagnosis of cystic fibrosis based on pH, detecting immune responses, heart disease monitoring and sensing moisture in wounds.

As part of an Internet of Things (IoT) wearables can then provide feedback, either to the user, a carer or a remote medical team. Even the measurement and relaying of real-time information like this has the potential to improve diagnostic efficiency and support the growth of virtual hospitals where patients are supported in their own home while still being monitored around the clock.
CPI is working with Dycotec Materials and KYMIRA Ltd to help bring this technology to market. In partnership with Innovate UK, they are developing a scalable industrial method to produce and integrate flexible electronic systems into comfortable, smart garments for remote biosensing and monitoring in healthcare.
There are applications beyond just monitoring as well. CPI has worked with KnitRegen on portable technology offering smart stroke therapy for neurological recovery.
Smart packaging
Smart packaging is a term used to describe packaging systems which could include embedded features like sensing or wireless communication. These features mean a product can be monitored throughout its lifecycle, and information — such as its location, temperature, pressure and humidity — can be shared with manufacturers, retailers or consumers at any given time.

When it comes to the healthcare applications of smart packaging, the technology can be used to remind patients about taking their medications and could keep suppliers up to date on stock levels.
At CPI we have the expertise and facilities to support smart packaging development and scale-up. For example, we have the technology to adhere both sensors and printable electronics on to thin and flexible substrates, and directly embed them within packaging or on to 3D objects, such as individual medicine bottles.
5G connectivity
5G connectivity might be more and more common — 25% of people in the UK have a 5G service on their mobile phones — but it's still far from standard in healthcare settings, and only a handful of hospitals in the UK are equipped with the technology. Thanks to its extremely low latency and rapid data transmission speeds, though, private 5G networks presents enormous opportunities for hospitals and other healthcare settings.
Through 5G, the sending and receiving of high-resolution images and files, such as MRI or CT scans, could happen in real-time with limited buffering or delay.
Outside of hospitals, 5G connectivity could also support other innovations, such as connected medical devices that allow patients to be monitored remotely.

CPI has partnered with Cellnex UK to launch a private 5G network testbed that showcases applications for 5G in a hospital environment. This includes its ability to enhance data security, boost communications to drive efficiencies, and improve patient wellbeing.
In-vitro diagnostics (IVDs)
In-vitro diagnostics are tests done on biological samples such as blood or tissue that have been taken from the human body. They can be used to detect many diseases, conditions and infections.
They can, for example, help better identify those in the earliest stages of progressive diseases such as cancer or those at risk of developing a disease in the future. In doing so, they save both lives and money by allowing medical interventions to take place earlier, if needed.
Developing, testing and deploying IVDs is, however, extremely complex. Researchers are now working to simplify and democratise this technology that could be transformative to the healthcare system. After all, if IVDs can be carried out at home by non-medical professionals, they could improve patient outcomes whilst reducing the amount of time people must spend in hospitals.
It's why we're applying our expertise across biological, physical and digital developments to help bring this technology to market.
Just-in-time manufacturing and automated pharmacies
Traditionally, clinical supply has required over-production to ensure there is access to medicines whenever they are needed. Unsurprisingly, this practice is both expensive and unsustainable.
That's where just-in-time manufacturing and automated pharmacies come in. This new approach to production responds to actual demand signals. Medicines are therefore available when they are needed, but wastage is limited, and costs and carbon footprint are reduced.
From 2020, CPI has been collaborating with partners to address this by designing a Pharmacy Automation for Clinical Efficiency (PACE) platform. It is a digitally enabled automated bottle packaging line to fill tablets and capsules with custom amounts of drug compounds. The platform's modular design system allows multiple drugs to be packaged in the same facility without cross-contamination, streamlining production and reducing inefficiencies.
Looking to the future
In much the same way as IVF treatment became widespread, these technologies could improve the lives of millions of patients. That's why we're using our expertise to help companies develop these innovative products, bringing the healthcare system of the future one step closer.
Enjoyed this article? Keep reading more expert insights...
CPI ensures that great inventions gets the best opportunity to become a successfully marketed product or process. We provide industry-relevant expertise and assets, supporting proof of concept and scale up services for the development of your innovative products and processes.
Stay updated with our insights by signing up to our newsletter