How technology is making food production smarter, more secure and more sustainable
The digitalisation of the food production industry uses novel technologies to ensure that our food systems are smart, secure and sustainable.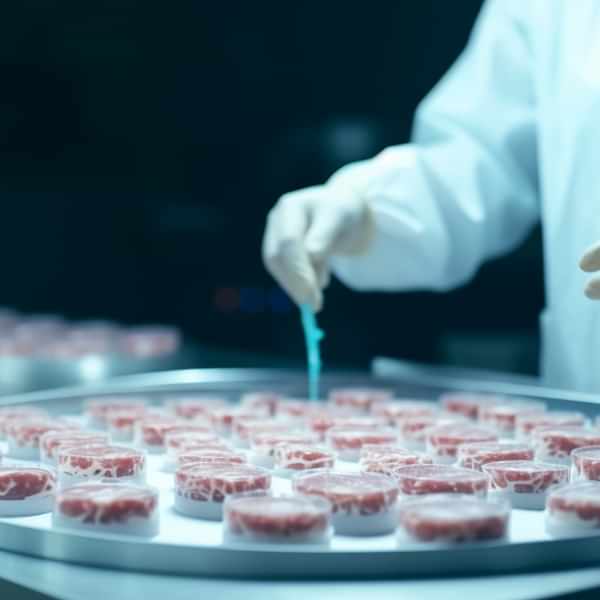 Digitalisation and alternative protein sources could help feed a growing population whilst reducing food production's contribution to climate change.
The UN estimates that there will be 9.7 billion people on earth in 2050 – an increase of 1.7 billion from 2022.
Considering how fragile our current food system is, it raises a pertinent question: How can we ensure that future generations have enough food to eat whilst reducing our carbon footprint?
Solutions to this problem not only need to increase the amount of food produced but must do so without increasing greenhouse gas emissions. That's because the food system, which encompasses everything from agriculture to land degradation and deforestation, is already responsible for at least 20% of global emissions.
This is contributing significantly to global warming and, in turn, putting food systems at risk from climate-related hazards and changing temperatures. However, research and innovation in AgriTech and food has the potential to break this cycle.
Unleashing the power of smart farming through digitalisation
Farming is undergoing a technological revolution.
From high-precision tasks carried out by automated machines to data-driven supply chain management, technology is transforming the way farmers produce and distribute food.
As with other industries, farmers are increasingly using drones to monitor crop health and supply-chain logistics. Covering large areas of land at speed and with minimal emissions, drones collect data efficiently and accurately, helping farmers redistribute labour to areas that need it most.
Despite being in their infancy, they are already having a positive effect – a recent Catapult case-study showed that drones increased the productive yield from an orchard by 10 percent.
However, it's not just drones making a difference in the skies.
In Australia and Brazil, networks of backpack-like sensors on bees are providing extremely detailed data on the bees' movements. The measurements not only give farmers insight into the insect's health, but also the health of the crops they fly over.
In lakes and rivers, a robotic fish developed by EPFL labs, Envirobot, has been developed to detect pollution. It does this by measuring pH and temperature and can be used to locate where chemical leaks or surface run-off are occurring, allowing farmers to adapt fertilizer usage accordingly.
By connecting this data, farmers have information on everything from animal health to crop density. In turn, this allows them to make more accurate, data-driven decisions that can increase food production and profits.
Chowing down on alternative proteins
Despite shifting attitudes towards meat consumption in some parts of the world, the amount of meat we eat is showing no sign of slowing down.
Alternative proteins and cultivated meat have been hailed as potential solutions, with the UK government recently investing £12 million in a dedicated research hub. 14% of all emissions come from rearing livestock so if successfully scaled, these technologies could make a huge difference in the fight against climate change.
Scientific advances in cultivated meat – a field of tissue engineering that aims to grow animal tissue in the lab – are also beginning to address the growing ethical concerns around meat consumption.
Most cultured meats rely in some part on animal products (usually fetal bovine serum), but this could be about to change as experts develop ethical, animal-free growth media. In the UK, 3D Bio-Tissues, a biotech start-up and spin-out from Newcastle University, is at the forefront of this technology that opens the possibility of growing meat that is entirely animal-free.
A more natural way to grow crops
The detrimental impact of chemical fertilisers and pesticides on the environment has been well-documented over the last few years. Fertilisers have caused vast algal blooms in the Gulf of Mexico and rendered many of the UK's rivers unusable, whilst pesticides are not only proving toxic to pests, but other animals such as bees, birds and even farmers.
However, technology is now allowing us to use nature's own weapons to develop natural, greener pesticides that are highly targeted. One such solution can be found in venom from the tubular web spider, Segestria florentina, which is proving extremely effective at dealing with insect pests in agriculture.
Looking to nature has also provided similar advancements in fertilisers. In fact, the very soil beneath our feet and the microbial communities it contains, are providing the inspiration. CPI has been working with Azotic Technologies to develop agricultural products that make nitrogen in the air available to plants. This process, known as nitrogen fixation, reduces the need for energy-intensive ammonia-based fertilisers.
Scaling the technology of tomorrow
From farm management to alternative proteins, what we eat and how it's produced could look very different in the coming decades. But for technology to truly transform the food industry, digital and scientific innovations must move quickly from idea to incubator.
Investing in agriculture and food system innovation is essential, as will support for scaling these technologies and bringing them to market, something CPI has supported for decades.
Enjoyed this article? Keep reading more expert insights...
CPI ensures that great inventions gets the best opportunity to become a successfully marketed product or process. We provide industry-relevant expertise and assets, supporting proof of concept and scale up services for the development of your innovative products and processes.
Stay updated with our insights by signing up to our newsletter