How a pandemic legacy is shaping the
UK

's scientific landscape

Our RNA Centre of Excellence was built in response to COVID-19, but its mission has expanded to become the UK's hub for developing RNA-based vaccines.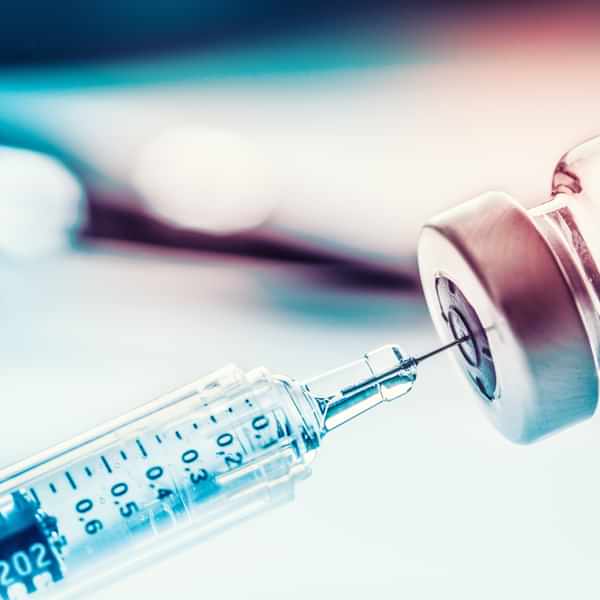 CPI's RNA Centre of Excellence in Darlington was built in response to COVID-19, but its mission has expanded to become the UK's hub for advancing the recent successes in RNA-based vaccines and therapies.
The World Health Organization officially declared the COVID-19 outbreak a pandemic on 11 March 2020. By then, the race to find a vaccine was already underway. At that early stage of development, there was no telling which of the putative vaccines would show enough efficacy. Through the Vaccines Taskforce, the UK Government backed multiple horses in the hope of finding a winner.
CPI was part of that effort. We were brought in early to apply our world-leading expertise in the development of mRNA vaccines, working with partners such as Imperial College London to support the drive to develop, scale up, manufacture and supply vaccine candidates.
In 2021, we were awarded additional funds to develop a new facility next to our National Biologics Manufacturing Centre in Darlington. This was designed to be a key part of the ongoing battle against COVID-19, a place where we could develop multiple vaccine candidates, ready to be rapidly manufactured in response to new variants.
Developing a successful coronavirus vaccine had taken just 300 days. But our new facility was designed to fast-track this process –with the ambition to create a pandemic-ready GMP manufacturing facility capable of producing a variety of RNA vaccines, ready to go straight into clinical trials to combat future variants of COVID-19.
We successfully developed vaccine candidates, which, unfortunately, like many others, were less efficacious than the Oxford-AstraZeneca vaccine and were therefore not progressed.
Building on a legacy
As life started to return to normal, we had a multi-million-pound facility, one of the largest pools of RNA knowledge in the UK, and the equipment needed to deliver this new technology.
Now known as the RNA Centre of Excellence, we have a facility that forms the backbone of the UK's innovation infrastructure in RNA vaccines and therapies. This is the only open-access UK-based centre currently able to develop and manufacture lipid nanoparticle encapsulated messenger and self-amplifying RNA vaccines and therapies ready for use in early-phase clinical trials. It is this legacy that can be exploited in many ways for the benefit of people around the world.
Where discovery, invention and commercialisation meet
We help SMEs, academics, and pharma on that journey from the development of a potential therapy or vaccine to getting it into clinical trials. Whoever needs our support can access it.
CPI's offer is unique because we're agnostic to who we work with and we care about innovation, not profit. We want to develop ground-breaking new products, but they aren't ours to market. We exist purely to help others. If we discover an exciting new way of manufacturing RNA, for example, we will let anyone use it in their own processes.
The Centre of Excellence is home to one of the largest concentrations of experts in RNA technology in the UK. We have the operators and the equipment to manufacture RNA-based products, supported by process development experts in R&D to develop and optimise production and encapsulation routes, from lab to commercial scale.
Following the rapid vaccine development approaches used so successfully for generating a COVID-19 vaccine, there is now huge potential to use the same techniques to create vaccines for other infectious diseases, such as Ebola, malaria, Lassa fever and Middle East respiratory syndrome (MERS). And developing fast turnaround, personalised cancer vaccines are now an emerging possibility.
The vaccine development technology is agile, flexible, and fast — and so are we. The way the Centre of Excellence is set up means that we can run big projects and produce large quantities of product, but we can equally flex to running on small scales. For example, we're working with Professor Robin Shattock at Imperial College London to develop several versions of the same vaccine for Marburg virus – a virus with a high death rate that has had outbreaks across Africa. Making six alternatives at a small scale and then testing their efficacy in human trials is a novel approach that's low cost and saves time.
Build a workforce and they will come
The other key element of the Centre of Excellence is the RNA Training Academy, which is supporting the British pharma industry to capitalise on its successes in using RNA technology. A skilled workforce is vital to positioning the UK as a science superpower.
What we know from speaking to our partners is that they need assistance in building RNA capability in their teams, and our distance learning, expert-led courses are helping people develop industry-relevant skills in developing and manufacturing RNA, RNA encapsulation, and final formulation.
We also host teams in person at the centre or visit them at their own labs, where we can provide hands-on training to help them make their products with our support.
Pandemic preparedness
And so, we return to the facility's original mission.
Thanks to our RNA Centre of Excellence, the UK is far better prepared for a pandemic than it was five years ago. It remains the only open-access UK-based centre with end-to-end capabilities for the clinical manufacture of RNA. And should there be another pandemic, we are equipped and prepared to manufacture 150 million doses of vaccine a year. That in itself is no small legacy.
Related event
We are hosting a two-day conference in London with our partners, Imperial College London, on RNA vaccines and therapeutics between October 4th — 5th, 2023. Join us at Prince Phillip House, home of the Royal Academy of Engineering, for this exciting opportunity to share your own work and learn from leading industry experts, share ideas, and build new connections within this rapidly advancing field.
Enjoyed this article? Keep reading more expert insights...
CPI ensures that great inventions gets the best opportunity to become a successfully marketed product or process. We provide industry-relevant expertise and assets, supporting proof of concept and scale up services for the development of your innovative products and processes.
Stay updated with our insights by signing up to our newsletter