Re-defining tablet manufacturing — an update on the continuous direct compression digital test-bed
We're progressing a novel digitally-twinned continuous direct compression platform to improve efficiency and costs during the manufacture of medicines.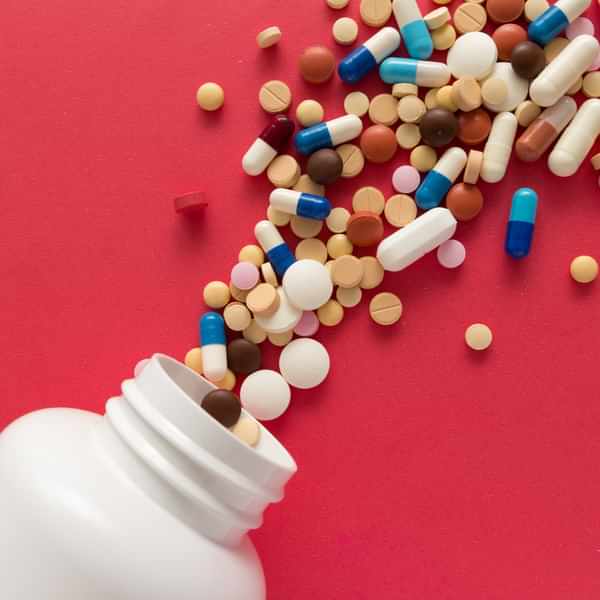 The Medicines Manufacturing Innovation Centre is progressing its novel digitally-twinned continuous direct compression platform to improve efficiency and costs during the manufacture of oral solid dosage medicines. Over the past year, several exciting new partnerships and opportunities to enhance the platform's outcomes have arisen.
Ageing populations and increasing costs of healthcare are putting a significant strain on the world's healthcare systems. A novel, cost-effective, digital and data-enabled platform is set to make a real difference.
The Medicines Manufacturing Innovation Centre – a collaboration between deep tech innovation organisation CPI, the University of Strathclyde and founding industry partners, AstraZeneca and GSK, with funding provided by UK Research and Innovation and Scottish Enterprise – aims to address challenges currently limiting medicines manufacturing. Through a series of ​'Grand Challenge' projects, the Centre is looking to advance emergent and disruptive technologies, with an overall goal to increase productivity and patient outcomes within the pharmaceutical industry.
The first of the Centre's Grand Challenges aims to develop a novel, digitally-twinned continuous direct compression (CDC) platform. By enabling oral solid dosage medicines to be formulated more robustly and efficiently, the platform will help to reduce costs for the end-user, supporting the needs of the healthcare system.
Why do we need the novel CDC platform?
Tablets have been made using the same manufacturing process for about a century. Grand Challenge 1's CDC platform will provide the pharmaceutical industry with the long-overdue update it needs. By using a continuous and semi-continuous feeding and blending workflow, rather than the traditional ​'bulk batch' manufacturing, the CDC platform can produce tablets more efficiently. This will be enhanced further by the use of a digital twin.
The digital twin – comprising of materials and equipment databases, process workflows and modelling software – will duplicate the manufacturing process in a digital space. It will provide a deeper understanding of how active pharmaceutical ingredients (APIs) and excipients will interact in the tablet manufacturing process, driving efficiency in product development. Additionally, the digital twin will significantly reduce on the amount of material needed to define the required manufacturing process, accelerating delivery of new medicines, whilst reducing the cost and carbon footprint of the tablet manufacturing process.
New partnerships
Grand Challenge 1 began in 2019 and since then several new partners with industry-leading expertise have joined the project to support the development of this CDC platform.

CMAC, a research hub focused on applying continuous manufacturing systems for more personalised, responsive and flexible product provision, is the delivery partner for the first phase Grand Challenge 1. The CMAC team are responsible for delivering the technical packages which will ultimately form the digital twin. They will also host the CDC feeding and blending rig during Phase I of the programme.
Last year we were delighted to welcome Siemens plc, Perceptive Engineering and Process Systems Enterprise (PSE) to Grand Challenge 1 to lend their considerable expertise in developing digital solutions. Gericke, a leading equipment provider, also became a collaborative partner in January 2021, contributing its expertise during the build of the CDC platform's feeding and blending rig. A month later, in February 2021, Pfizer joined the collaboration. As one of the world's largest pharmaceutical companies, they bring data know-how, along with expert skill and knowledge of continuous mixing technology to further enhance content and reduce risks.
What progress have we made?
Grand Challenge 1 will be delivered in two phases: Phase I will focus on developing the platform's feeding and blending technology, while Phase II will incorporate tablet compression. The digital twin is being developed and proved during both phases. Phase I is scheduled to complete mid 2022 with Phase II immediately following and running for a further two years in the Medicines Manufacturing Innovation Centre.
Inevitably, COVID-19 has impacted the programme. However close collaboration with Gericke has enabled remote completion of Factory Acceptance Testing (FAT) and the execution of trial work on feeding and blending utilising capability at Gericke's facility in Switzerland as part of their partnership contribution.
Grand Challenge 1's feeding and blending rig has been installed in a newly refurbished laboratory in the Technology Innovation Centre at the University of Strathclyde and is now ready to starting internal trials by the CMAC team. These trials will yield valuable data that will feed into developing the databases, models and workflows that constitute the digital twin.
What's next?
All of the components of Grand Challenge 1's CDC platform will come together mid- way through 2022 in the new Medicines Manufacturing Innovation Centre facility. Its ​'future-proofed' design elements and bespoke equipment – key features of this innovative facility – make it the perfect location to further enhance the capabilities of Grand Challenge 1's CDC platform.
During 2022 we will build on the enhanced feeding and blending technology methods developed in Phase I to extend our capability to include tablet compression.
After completing Phase II, there is potential for an additional phase or indeed a brand new Grand Challenge — to utilise the platform to further develop predictive digital technology. We are currently looking at opportunities to broaden the range of formulations to which CDC is applicable and expand the flexibility of CDC for new APIs. The scoping of the next exciting phase for GC1 is already underway, as is the search for new partners with game changing ideas or technology that can help deliver a step change in performance. We are also interested in engaging with manufacturing companies that have a challenge that we can use the benefits of the CDC platform to solve.
As Grand Challenge 1 progresses, new solutions and opportunities are continually coming to light. The Centre is currently working on transforming the medicines supply chain through its innovative CDC platform and ongoing projects as part of Grand Challenge 2 and Grand Challenge 3. New collaborators interested in engaging in the transformation of pharmaceutical manufacturing and becoming a partner of the Centre are welcome, as we look forward to the exciting future of next-generation pharmaceutical manufacturing bringing new medicines to patients safely and quickly.

Enjoyed this article? Keep reading more expert insights...
CPI ensures that great inventions gets the best opportunity to become a successfully marketed product or process. We provide industry-relevant expertise and assets, supporting proof of concept and scale up services for the development of your innovative products and processes.
Stay updated with our insights by signing up to our newsletter