A day in the life of a production scientist at
CPI

's

RNA

Centre of Excellence

Get a glimpse into the life of a production scientist at the RNA Centre of Excellence, the UK's hub for developing RNA-based vaccines and therapies.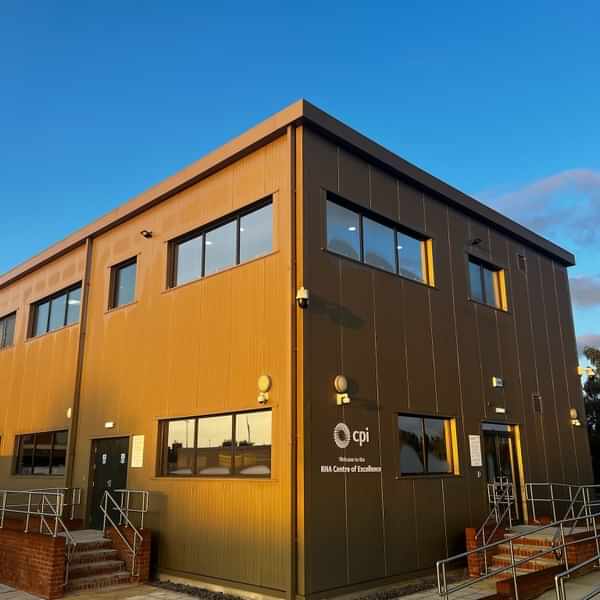 Working at the centre, I am at the forefront of the UK's ability to develop RNA-based vaccines and therapies. Here's what a day in the life of a scientist working here is like.
I'm a Production Scientist working in the RNA Centre for Excellence at CPI. As the only UK-based facility currently able to develop and manufacture RNA-Lipid Nanoparticle (RNA-LNP) for use in early phase clinical trials of vaccines and therapies, the specific nature of this work drew me to the position. I feel privileged to be one of the first people able to manufacture RNA material at this scale.
My journey to this role started with a degree in Neuroscience from the University of Central Lancashire. Graduating in 2020 during the first year of the COVID-19 pandemic was extremely tough, but it also provided opportunities I was able to pursue that led me to where I am now.
Two of them involved working on COVID-19-related technology. The first was the production of lateral flow devices for detecting COVID-19 antibodies, HIV, and Legionella. In the second, I analysed saliva samples from NHS staff for COVID-19, using loop-mediated isothermal amplification (LAMP) — a technique that amplifies genetic material present in a sample so that it can be detected and identified.
A day-in-the-life of an RNA production scientist
A typical day for me at the RNA Centre of Excellence starts at 8:30 am. My first task is to check room pressure, temperature and humidity to see if there have been any fluctuations overnight. This is crucial for maintaining the integrity of our facility and processes and keeping the rooms clean and particle free.
Then I review my assigned tasks for the day, which often involve drafting, reviewing, or updating the Good Manufacturing Practices (GMP) documentation. This is a critical part of my role, as documentation is a key component to maintain GMP, keeping track of what we do within the facility to ensure our products are safe and of the required quality.
Given that it's a GMP facility, other than water, no food or drink is allowed inside the facility. The refreshment break at around mid-morning outside is therefore very welcome. The break also provides a good opportunity to connect and have face-to-face conversations (without PPE covering our heads and faces!). It's important to have these moments of connection in our busy workdays.
After the break, the team gathers for a meeting to assess the progress of our tasks, offer support to colleagues if needed, and communicate any relevant information from other departments. Most of the rest of my day will be taken up with making sure the facility maintains GMP compliance and readiness.

After the manufacturing support team completes the daily cleans, I'll enter the cleanrooms with another member of the production team to carry out a housekeeping patrol. The biggest source of contamination in any clean room is the people working in them. Thus, we have to protect the environment by ​"gowning-up" into specialist non-shedding clothing before we enter the GMP production areas. We have two levels of gowning depending on the stringency of contamination control – these are known as Grade D and Grade C, the latter being the most stringent control. Firstly, for Grade D, I change out of my street clothes, cover my hair with a hairnet, and put on dark blue top and trousers made of non-shedding material, cleanroom socks, lab shoes, followed by blue overshoes. When I move from Grade D to Grade C, there are additional controls which I wear on top — a second hair net, an additional jumpsuit with buttons at neck, wrist and ankles, and finally, another layer of overshoes on top of the original blue ones!
Once inside we check that the logbooks have been filled in, the equipment is functioning as expected, that line clearances have been completed where necessary and report any findings.
Of course, not every day is the same, which makes my role varied and interesting. This mainly depends on whether we are in an active manufacturing campaign or if we are between batches.
During manufacturing our tasks shift towards following batch manufacturing records to produce RNA-LNP products under GMP conditions. This can range from small to large-scale production, depending on our customers' and collaborators' needs. As a result, we must be flexible and knowledgeable in working with various equipment and processes.
Why I do this work
The RNA Centre of Excellence is a unique place to work because of its capability to develop and manufacture lipid nanoparticle-encapsulated messenger and self-amplifying RNA vaccines and therapies. That makes it a significant contributor to the advancement of RNA medicine and a key component of the UK's RNA manufacturing hub.

It's also vital for pandemic preparedness — if we were to experience another health emergency, CPI would be ready to manufacture up to 100 million vaccine doses per year.
Nurturing scientists
Because of the Centre's importance, it' is essential that our operators have the right training. The on-site RNA Training Academy taps into the expertise within the RNA Centre of Excellence to nurture young scientists and ensure they have the skills and knowledge needed to carry out RNA manufacturing safely and effectively.

When I step back and take a broad look at the work we are doing, there is much to admire — the cutting-edge innovation and facilities at our disposal, the expertise of our dedicated RNA scientists and those being trained for the future. It's clear to me that the RNA Centre of Excellence is helping the UK to become a global leader in RNA medicine by finding therapeutics for modern health challenges that will benefit people everywhere.
Every day, I'm excited to be a part of this exceptional team that has the potential to change lives and shape the future of medicine. It' is incredibly rewarding to be working at the cutting-edge of science and innovation.
Enjoyed this article? Keep reading more expert insights...
CPI ensures that great inventions gets the best opportunity to become a successfully marketed product or process. We provide industry-relevant expertise and assets, supporting proof of concept and scale up services for the development of your innovative products and processes.
Stay updated with our insights by signing up to our newsletter