Accelerating innovation in
RNA
Develop, optimise, scale-up and manufacture
RNA

therapies and vaccines.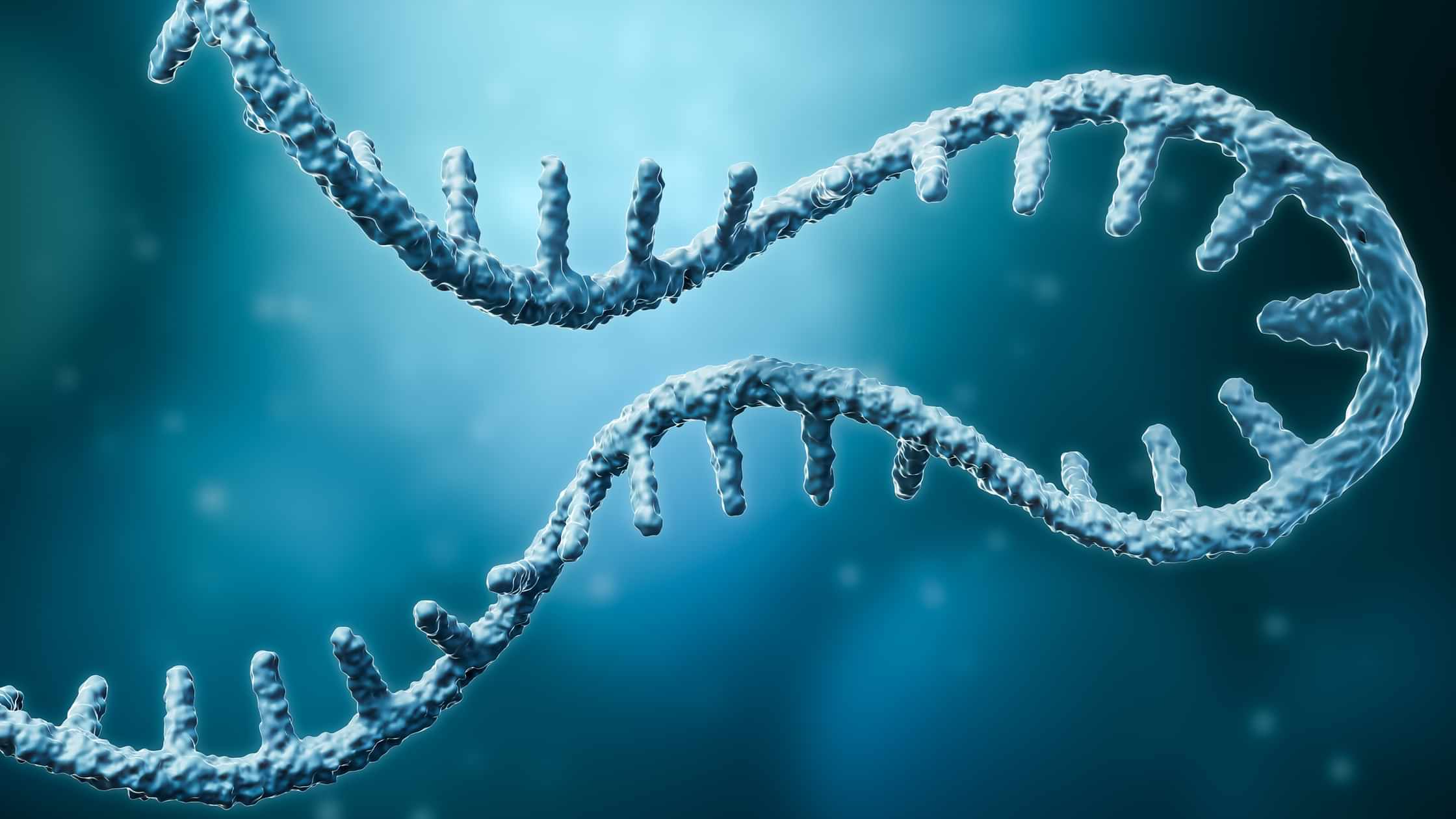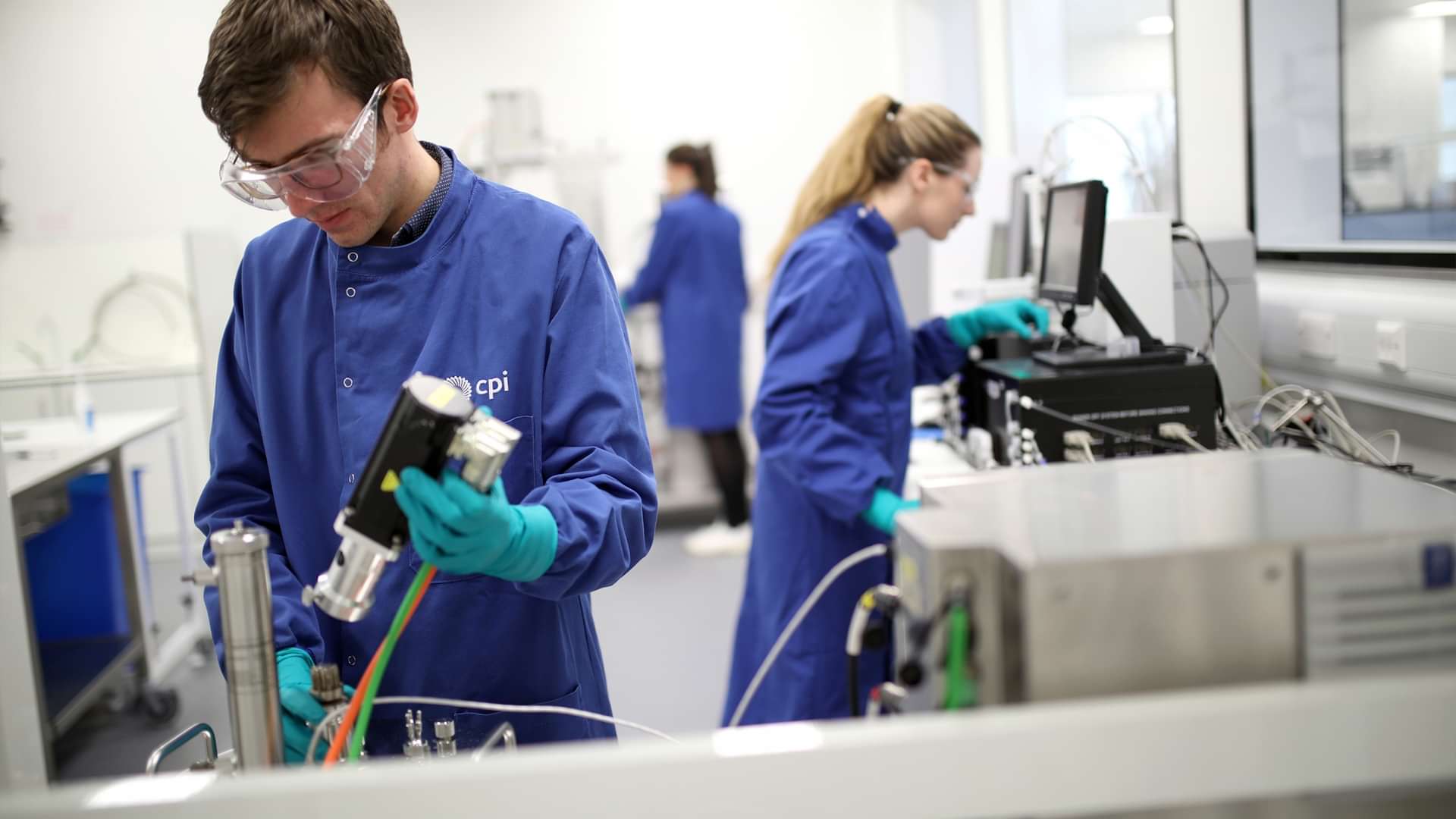 Supporting the next generation of biologic products and manufacturing processes
At CPI's RNA Centre of Excellence, we use our expertise to accelerate the development and commercialisation of innovative RNA products and processes.


Through our RNA Training Academy, we're futureproofing the industry by training the next generation of RNA manufacturing professionals.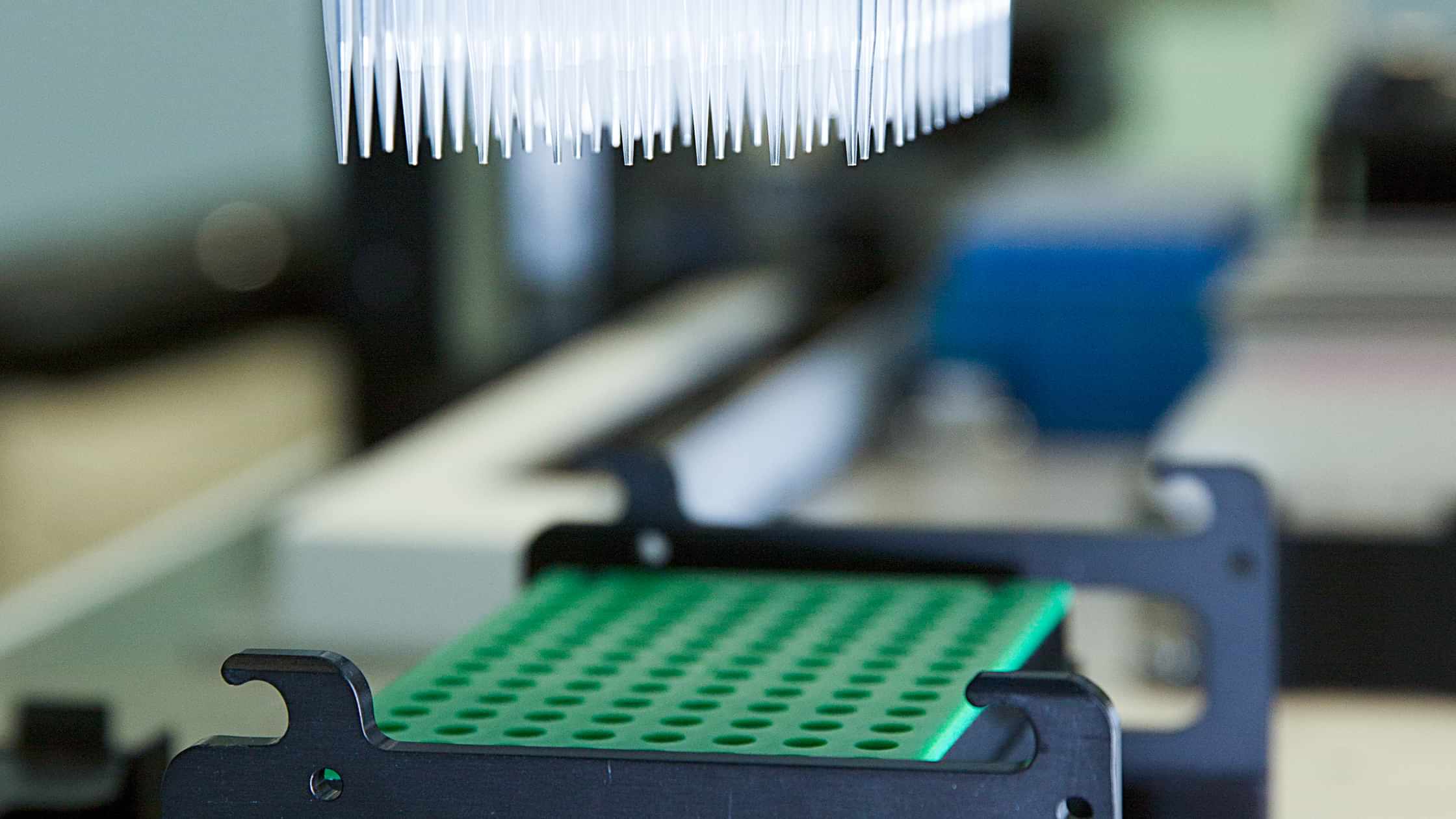 Opportunities in
RNA
The use of RNA as a therapeutic and a potential vaccine platform has shown promise for many years, both via short-chain oligonucleotides and longer-chain mRNA and self-amplifying RNA.
There's significant potential to develop and improve manufacturing approaches to be more efficient and cost-effective to meet the future demand for this exciting emerging technology.
Our RNA capabilities
We're the only UK-based open-access facility currently capable of developing, manufacturing and encapsulating messenger and self-amplifying
RNA

vaccines and therapies ready for use in clinical trials in one location, through our end-to-end process for

RNA

development and scale-up.



Our platform mRNA-LNP process enables companies to ​
'
plug and play', accelerating vaccine and therapeutic scale-up. As an independent facility, we can transfer the processes that we co-develop with you to our internal
GMP
production facility, your manufacturing site or to a
CDMO
of your choosing. Our research and development work is
ISO

9001
certified, and we manufacture to
GMP
to facilitate early stage clinical trials.
Operating in both an R
&

D and

GMP

environment, we build cross-functional teams tailored to your needs. We host one of the largest pools of experts in

RNA

manufacturing in the

UK

, providing you with the most suitable support, facilities and guidance for you and your innovation.

Our expert knowledge and state-of-the-art facilities that support your project:


Delivery of large scale processes to supply encapsulated material for pre-clinical or clinical studies on our platform or a customer supplied process.

Our platform process with the ability to scale up to 20g of RNA-LNP product, all the way from synthesis, purification and encapsulation of RNA vaccines and therapeutics.


Scaling-up to 1L synthesis of a self-amplifying RNA (saRNA) and lipid nanoparticle (LNP) encapsulation process, as one of the largest RNA vaccine manufacturing capabilities in the UK.

Our flexible equipment and facilities are capable of providing up 50g of RNA-LNP product per batch, in the event of a future health emergency.

Synthesis, cloning and scale-up of DNA plasmid template suitable for in vitro transcription of mRNA, including template linearisation with appropriate restriction enzyme(s).

Creation of GMP compliant DNA from plasmid and other sources, master and research cell banks. For viral applications, can also carry out viral seed banking.

Enzymatic synthesis of natural or modified mRNA using enzymatic or co-transcriptional capping technology, with the capability and platform processes for mRNA purification using filtration or chromatographic approaches.

Quality and titre optimisation using a design of experiment approach at small scale for cost-effective optimisation, with the ability to linearly scale up to litre scale and the option for intermediate scale-up in ambr15 and ambr250 automated bioreactor systems.

Process development and state-of-the-art equipment for scale-up of nanotherapeutic-based delivery systems, such as lipid nanoparticle encapsulated RNA, including a choice of manufacturing process, development and scale-up of purification strategies to match mRNA synthesis scale.

Formulation development of encapsulated mRNA with cryoprotectants for successful lyophilisation via freeze-drying, including stability assessment and product characterisation.

Established analytical methods for characterisation of product pre and post encapsulation, including concentration, purity,​identity, residual impurities, particle sizing, zeta potential and encapsulation efficiency.

Flexible manufacturing process across a variety of scales dependent on client requirements for end product.

Development of bespoke analytical methods to support cell-based expression analysis of the translated product (pre and post encapsulation) including ELISA, western blotting and/​or flow cytometry.
Our core capabilities
Our platform process enables companies to ​'plug and play', accelerating vaccine and therapeutic scale-up. As an independent facility, we can transfer the processes that we develop with you to your manufacturing site or CDMO of your choosing. Our research and development work is ISO9001 certified and we manufacture under GMP standards.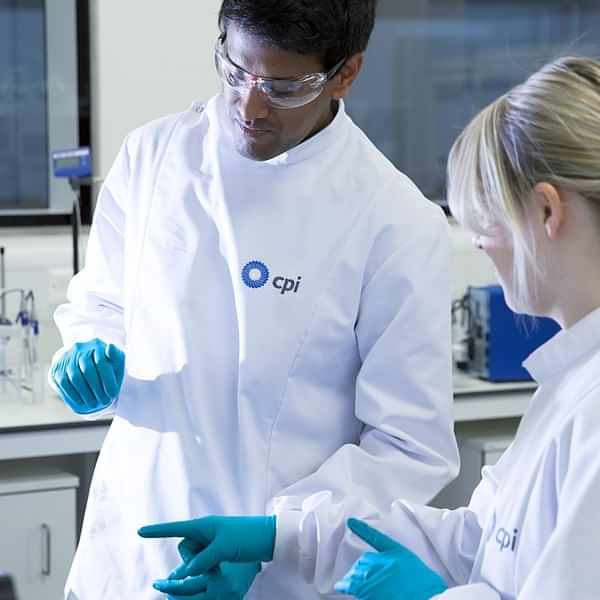 Expertise
Access to bioprocess development and scale-up experts.
End-to-end workflow
From small-scale to large-scale manufacturing.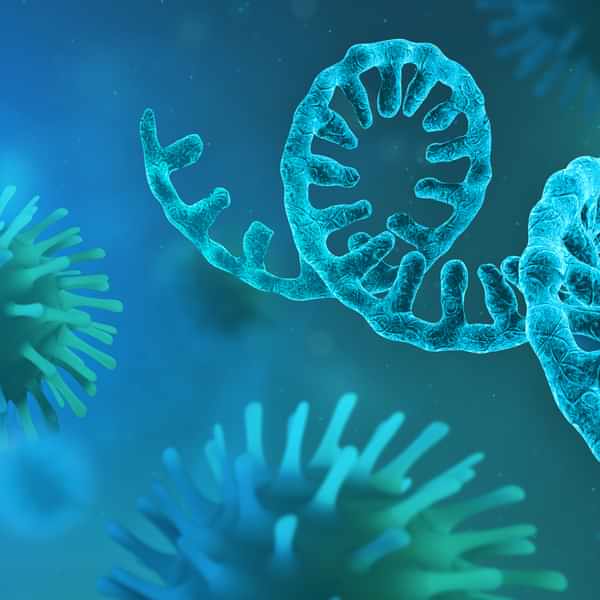 Technology transfer
To a client's manufacturing facility or CDMO.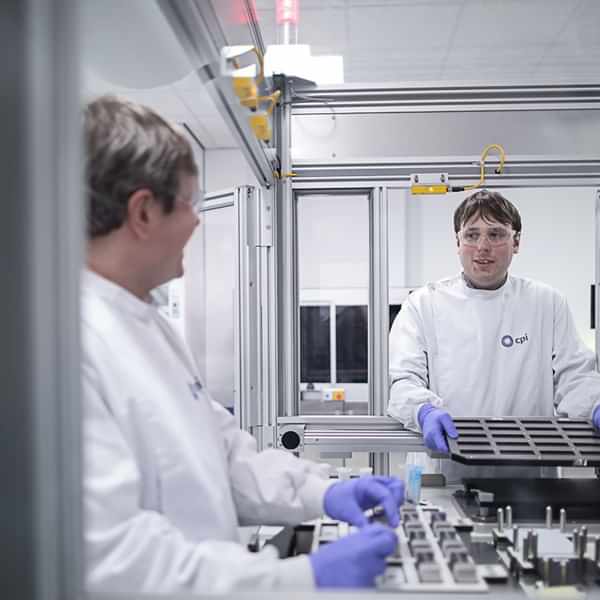 Expertise in formulation
Cryopreservation development, forced degradation and stability studies.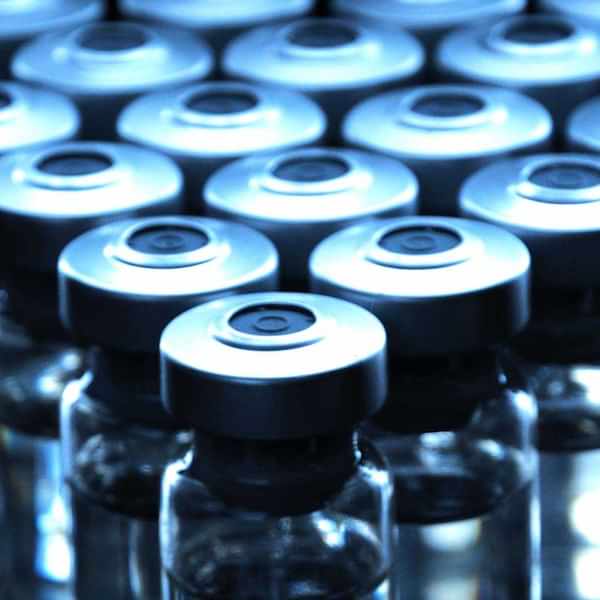 Process optimisation
Experience in helping companies to develop an optimised protocol for the production of their nucleic acid-based process, reduce batch-batch variability and improve product quality and quantity.
Our track record of innovation
Our experience in RNA projects includes multiple partners, ranging from SMEs to larger corporates and academic institutions.
CPI

played a key role in the accelerated development of COVID-

19

vaccines as part of the

UK

Government's Vaccine Taskforce. As a result, we've built the knowledge and networks to support every stage of

RNA

development and scale-up.
At the CPI-led Medicines Manufacturing Innovation Centre, we're delivering a project aiming to revolutionise the manufacture of oligonucleotides, short strands of synthetic

DNA

or

RNA

. This collaborative project between industry and government aims to develop a scalable, sustainable and more cost-effective medicines manufacturing process.
Innovation insights
Read what our experts have to say about vaccine development.