Our journey to embedding impact at the heart of
CPI
What does embedding impact really mean for technology innovation at CPI? Our Director of Impact, Louise Barker, looks back on this journey.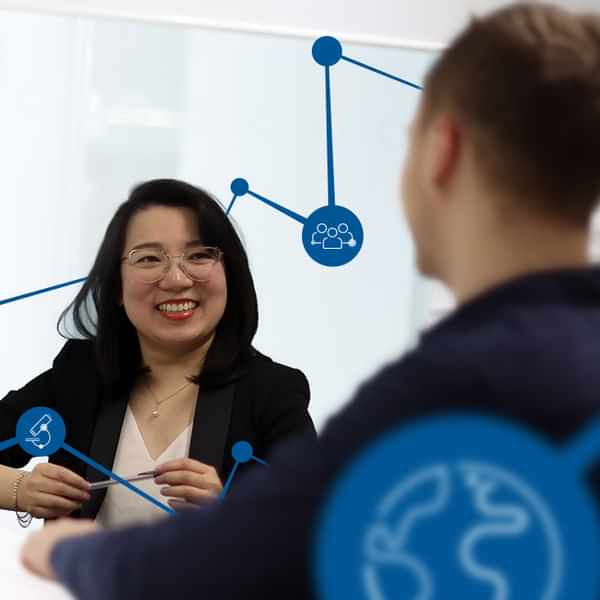 We've always been passionate about developing tech for good – wanting to create meaningful and lasting positive societal, environmental, and economic impact through innovation.

So, we took this a step further, by embedding impact into CPI's mission and culture. This has been a transformative journey, but we've now reached a point where it's integral to everything we do. In 2022, it even led to me featuring in a video about one of our innovations, which is transforming treatment for Crohn's disease patients just like me.
But it was back in 2014 that we analysed our innovation projects through the lens of impact for the first time with an Oxford Economics report. Little did we know that this fundamental knowledge would become central to our mission as a technology innovation social enterprise.
Our Strategy Director at the time was instrumental in setting off on this path – the forward-thinking approach, unwavering support, and countless ideas pushed us to explore the depths of the positive impact we were creating for our clients, economy, and society.
The best ideas start with a great team and a blank sheet of paper
After 12 years at CPI, I was given an incredible opportunity to help better define what impact looks like. Working with my colleague Sarah, we sat with a large blank piece of paper and started to write down what we thought impact was in the context of innovation.
As an organisation, we wanted to think strategically about the real benefits of the innovation support we provide, not only to partner organisations and companies we collaborate with, but also how we could quantify the long-term societal benefits. The world of impact was our oyster, and we had to form CPI's pearl.
The impact six-pack that caught attention
The impact team knew we needed to keep banging the drum about the importance of delivering impact, but to bang it in a way that made people listen.
So, we got out and about and spoke to people – from academics and economists to other companies and members of the Catapult network. The academics we spoke to were mostly concerned with research excellence – due to the Research Excellence Framework (REF), which benchmarks research outputs, looking at the impact of research and the research environment.
We soon realised that REF was entirely different to what we were seeking to do. We wanted a more external facing impact angle, by looking at how our work powers positive change for our partners and collaborators. For us in the innovation space, peer review and patents are less important than seeing our inputs translated into viable products and processes to benefit people, places and the planet.
In the early days, we focused on measuring key performance indicators (KPIs). How many companies did we meet? How many projects did we deliver? We had ambitions to take this a step further, by plotting the revenue growth of our clients over time, analysing the changes in technology readiness levels (TRLs), looking at job creation, and establishing many other metrics of impact.
It was a leap for us to move from the KPI-oriented mindset to one that blended data with storytelling to assess impact. For the first 2 years, we helped people understand how to determine when a project's KPIs should be reported on versus when that project should be truly measured for its impact.
To help our people adopt this impact-first approach, we knew we had to find a simple way of telling our impact stories. Ultimately, this took the form of a slide deck template comprising just six slides. It took a while to develop but creating this ​"six-pack" crystallised impact storytelling for us and others. Suddenly, you could see how one small project with us moved that client on, won them more investment, allowed them to develop their technology, recruit more people, and so on. We didn't know what we didn't know until we started investigating, and what we found was a revelation.
It led to a pivotal moment in which our senior leaders suddenly had their ​'lightbulb moment' and realised what we were trying to do. It was a huge shift from being self-congratulatory to measuring our success through the success of others and their businesses and projects. From there, CPI's impact culture snowballed.
Embedding impact among our people
By 2018, we had developed an Impact Framework that we could use to measure, analyse and report the impact of our innovation support. And we got noticed for it. That year, we won Chemical Industry Service Provider of the Year at the Chemical Industries Association Awards, and we've come a long way since.
In just 6 years, impact has gone from a misunderstood concept, to being one of CPI's cultural pillars.
Everyone at CPI learns about how we're ​"in the business of impact" from day one. Impact is embedded in everything we do – from the innovation projects we carry out to our communications. Sharing our impact is a key highlight at our monthly all-hands, and it's being incorporated into everyone's objectives. Sharing impact data not only reminds us of the good we're doing every day but also helps us to learn, adapt, and consistently do better for our partners.
Questioning purpose over profit
As a social enterprise, we need to generate commercial income and profit. But is this more important than generating impact? Being a social enterprise means that all profit we make is re-invested back into the business, which therefore means the more profit we make, the more impact we can have through innovation.
So, they go hand-in-hand. We can address the triple bottom line – focusing as much on social and environmental concerns as we do on profit – to create a sustainable and financially stable business.
That is the CPI you see today. A social enterprise with impact at its heart – integrated into the company's business model, strategy, vision, and mission to catalyse the adoption of advanced technologies and manufacturing solutions to build a better future for people, places, and our planet.
Coming up next...
In our next blog on impactful innovation, we highlight one of our partners, Touchlight Genetics. By telling their story, I'll demonstrate how we gather data and measure impact for our projects and partners… and how we'll track them many years into the future to uncover how CPI's nugget of investment continues to influence human health.
Enjoyed this article? Keep reading more expert insights...
CPI ensures that great inventions gets the best opportunity to become a successfully marketed product or process. We provide industry-relevant expertise and assets, supporting proof of concept and scale up services for the development of your innovative products and processes.
Stay updated with our insights by signing up to our newsletter