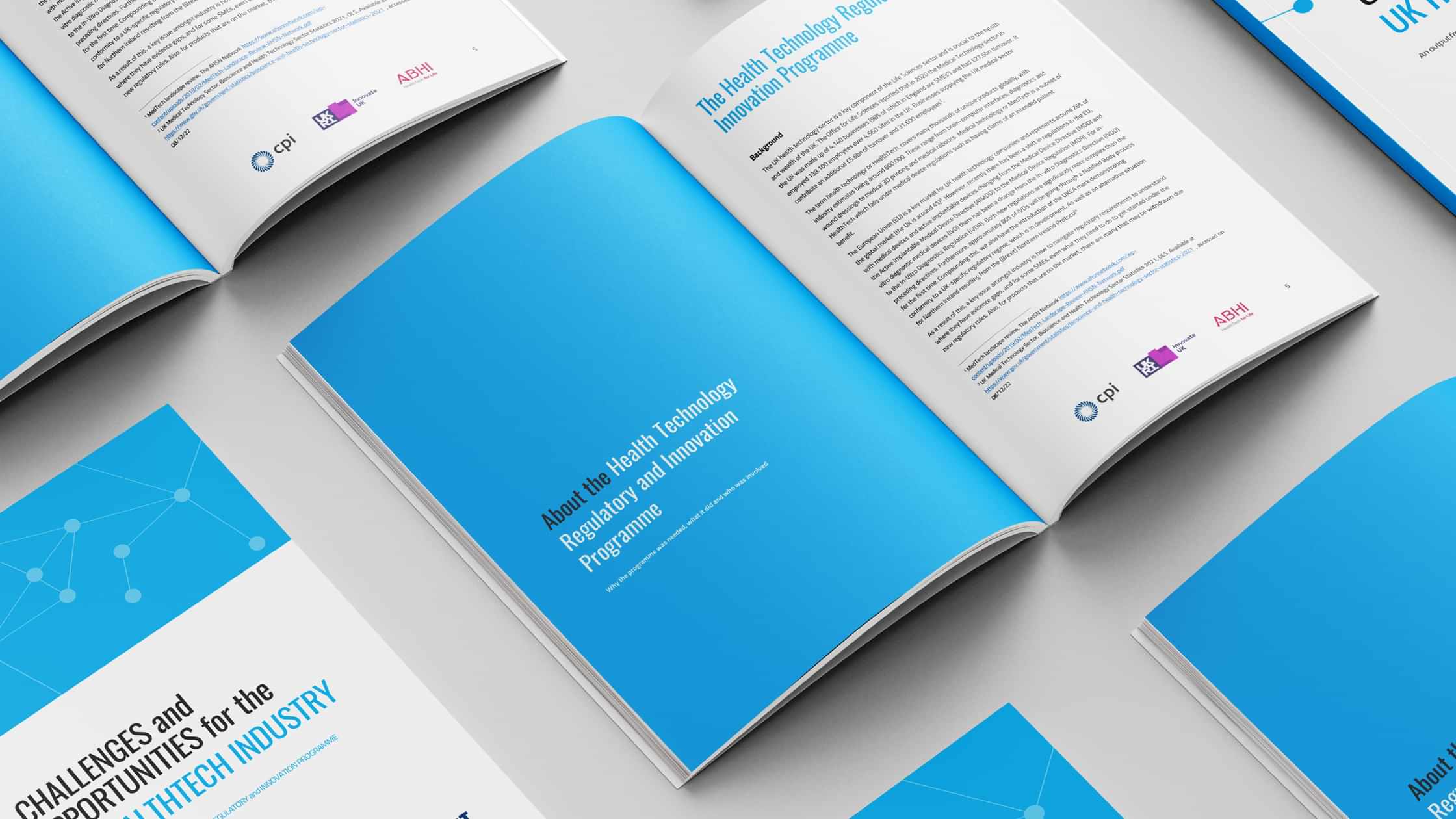 One in five
UK

HealthTech SMEs head to

US

for product launch
11

Jan

2023

Our new insights report reveals that up to 24% of UK-based HealthTech SMEs aim to launch their innovations in the US, rather than the UK, due to its market size and favourable regulatory environment.
A new HealthTech sector insights study published today reveals that the UK may be losing out on its early-stage investment in medical device and HealthTech innovation. The comprehensive survey of HealthTech SMEs and sector stakeholders, led by CPI in partnership with ABHI, reveals that about one in five companies now target the US for launch, thanks to its large market potential and more favourable regulatory environment.
The report highlights the strength of UK early-stage inventions and innovations and how translational research and scale-up needs to be boosted. According to the report, SMEs feel that public support for innovation weakens as they move from invention, through the translational stage and get closer to the commercial market.
Almost three quarters (70%) of surveyed SMEs found the current UK regulatory environment to be challenging. Challenges cited include the struggle to navigate the complex system and difficulties with rapidly progressing technologies to commercialisation. Most SMEs do not have in-house expertise in regulatory affairs, with 90% of SMEs stating that they rely on external consultants for advice and support. However, SMEs find it hard to identify consultants with the right expertise.
The report follows news from the European Commission announcing a proposal to give more time for manufacturers to transition to the new requirements of the Medical Devices Regulation to avoid device shortages.
Manufacturers with medical devices on the EU market are struggling to transition to the new requirements of the Medical Device Regulation (MDR) or In Vitro Diagnostic Regulation (IVDR) due to the capacity limits of conformity assessment and notified bodies. In addition, many manufacturers lack the internal resources to meet the more robust requirements of the regulation by the end of the current transition period.
The study was conducted by CPI and ABHI as part of the Health Technology Regulatory and Innovation Programme, through which we've provided over £7 million of Innovate UK funding to support promising UK HealthTech SMEs on their innovation journeys.
We've strengthened our position as a trusted innovation partner within the UK HealthTech innovation ecosystem, having supported 232 businesses through the programme with funding and training for regulatory affairs support. The funding, alongside our and ABHI's expertise, has helped these SMEs to develop quality management systems, audit their regulatory compliance, or develop their regulatory strategies for UK, EU or US market entry.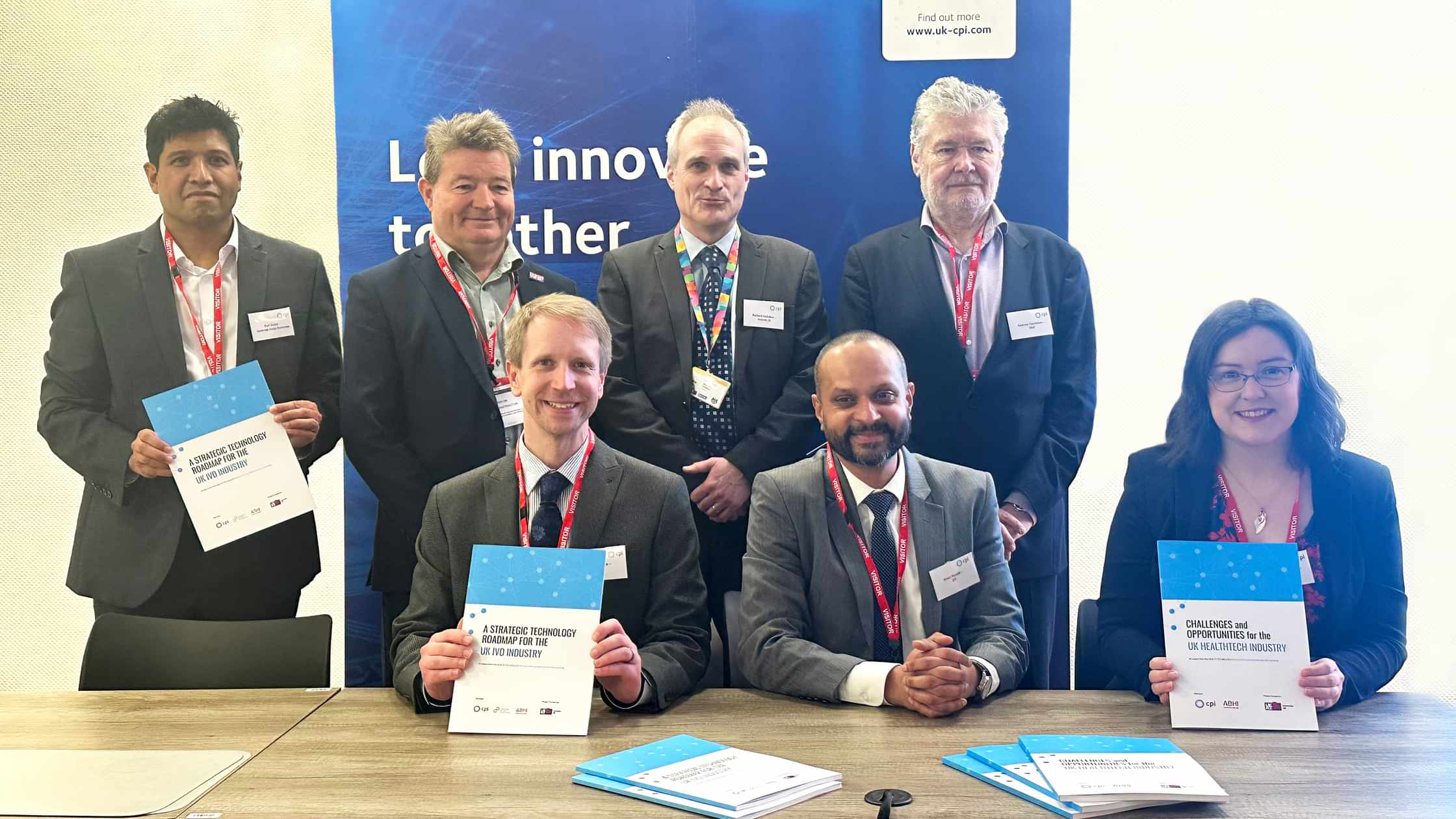 For the Challenges and opportunities for the UK HealthTech industry report, we worked with over 350 SMEs, Innovate UK and HealthTech stakeholders to identify the key challenges faced by the UK HealthTech SME community. Drawing on its fresh insights, the report provides 45 recommendations to guide funders and policymakers on how to support the UK HealthTech industry to become globally competitive and bring benefits to UK patients.
A second study in collaboration with Cambridge Design Partnership (CDP) has developed a technology roadmap for how the UK can become the go-to country for developing and adopting in vitro diagnostics (IVDs). IVDs involve the analysis of human specimens outside of the body and have a global market value of approximately £90 billion, of which the UK accounts for around 1.2%.
Combining data from clinicians, publications and patents, the roadmap corroborates that the UK has excellent research in diagnostics and identifies the top nine trends that will transform UK diagnostics and so should be invested in over the next 10 years.
While the study found that the UK excels at research, it suggests ecosystem and infrastructure for commercialisation needs to be improved upon, meaning that many UK inventions are commercialised by companies from other countries. Consequently, UK IVD inventions have not led to the establishment of major IVD companies in the UK and valuable intellectual property is lost overseas.
The study proposes a high-level strategy to boost the UK's success in commercialisation of novel IVDs, driven in-part by a government-led strategy for the sector and harmonised regulatory pathways.
Dr Arun Harish, Strategy Director at CPI, said:
"As a Catapult centre leading on HealthTech in the UK that works with many health SMEs in the sector, we understand how hard they find the navigation of the regulatory approvals process and the route to commercialisation.

"These two first-of-their-kind reports will help industry, policymakers, government, funding agencies and the wider HealthTech ecosystem immensely with shaping future interventions to grow the HealthTech industry in the UK. They also highlight the need for further intervention to support UK HealthTech businesses in developing and scaling-up innovative technologies, which will ultimately benefit UK populations."
Richard Phillips, Director of Strategy at ABHI, said:
"The HealthTech sector is dominated by small and medium sized businesses, and it is a critical partner to our NHS. That said, it is well recognised that, as a country, we need to be better at supporting our SMEs. Navigating regulatory hurdles is one thing, but access to finance and the right skills are equally important. There are some 45 recommendations within the insights report, grouped across such key areas, and all designed to help inform that offer of support. We look forward to working with all partners to bring this work to life."
Pari Datta, Principal Consultant in Strategy at CDP, said:
"Today's reports highlight the considerable funding and regulatory challenges facing HealthTech SMEs, especially in the IVDs sector. It is a real struggle to navigate the complex regulatory and funding landscape. It takes up considerable time, it costs a lot, and it slows commercialisation. The successful Health Technology Regulatory and Innovation Programme has pioneered a way to break through these barriers, so that innovative solutions reach the market and help to transform the lives of patients and clinicians. Our recommendations and roadmap provide the blueprint for a thriving UK HealthTech sector."
Richard Hebdon, Director of Health and Life Sciences, at Innovate UK, said:
"The UK HealthTech industry generates huge value for the UK economy as well as providing the NHS with vital tools and equipment to deliver high quality healthcare.
"The single biggest challenge facing the industry today is posed by the difficulty in understanding and navigating medical device regulatory requirements. Innovate UK recognises this and conceived the Health Technology Regulatory and Innovation Programme to address this challenge by providing much needed regulatory support to UK HealthTech SMEs.
"The programme is being delivered through technology innovation catalyst CPI in partnership with the Association of British HealthTech Industries and is already helping more than 200 companies to understand and navigate a complex regulatory pathway.
"Innovate UK is committed to helping make the UK a world leader in HealthTech innovation and a key part of this is helping to create the right regulatory environment for innovation to flourish."
Let's innovate together
To find out more about how we can work together, please enter your details below.