Unleashing the power of sustainable innovation for medicines manufacturing in the
UK
Here's how the UK can lead on sustainable medicines manufacturing – from minimising the industry's carbon footprint to creating more than 116,000 new jobs.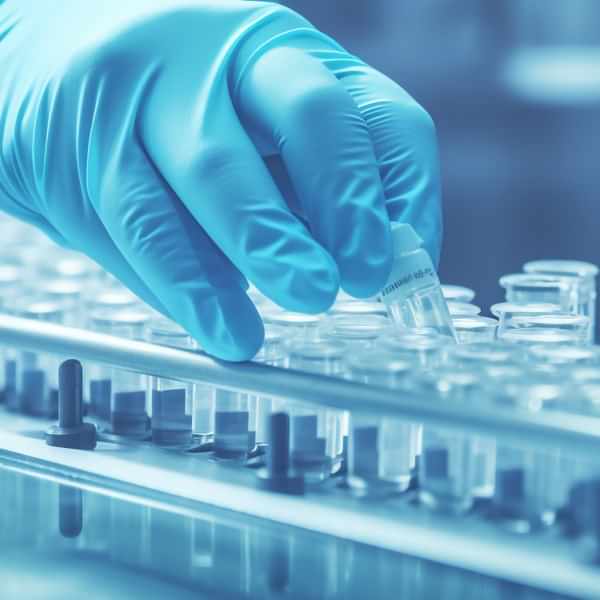 Imagine a future where the UK leads the way in making life-saving medicines that are not only innovative but also environmentally sustainable. With the right investment, that future can be a reality.
The speed of development and success of the Oxford Astra-Zeneca COVID-19 vaccine highlighted the expertise and infrastructure that makes the UK a leader in biotech. But could we take it one step further and become a global powerhouse in sustainable medicines manufacturing?
Manufacturing medicines already delivers 45% of economic activity within the UK life sciences sector, generating £35.1 billion of turnover in the UK in 2021 and exports of over $25 billion in 2020.
Embracing cutting-edge technologies could attract £15 billion in new investments in the next decade, according to a report by the Medicines Manufacturing Industry Partnership (MMIP). The move towards sustainable manufacturing could also create more than 116,000 new jobs.
Here's how UK industry can lead a sustainable medicines revolution – from changing the way we operate to supporting innovation not just in what we develop, but how we develop and manufacture it.
Leaders in "green" industry
The pharma industry generated around 52 megatonnes of CO2 equivalent in 2015, which is equal to the emissions produced by powering 6.5 million homes for a year. And with demand for medicines, and the complexity of manufacturing new medicines, set to increase in the coming years, pharmaceutical industry emissions are only predicted to rise.
The first step towards reducing this carbon footprint is accurately measuring it. We're creating a digital dashboard to track carbon footprints at every step of the manufacturing process. By keeping a close eye on this data, we can find ways to reduce carbon emissions and make operations more environmentally sustainable.
Using this data, manufacturers can pinpoint areas to reduce emissions. Opportunities include upgrading heating, ventilation and air conditioning (HVAC) systems on production lines. These intelligent systems – which automatically adjust temperature and airflow based on activity, lowering energy usage – are already in operation at our Medicines Manufacturing Innovation Centre buildings.
Pharma can also take inspiration from other industries. By transitioning to a ​'Just in Time' manufacturing approach for clinical trial medicines, we can reduce waste and cut emissions by over 50%. This approach, which has already revolutionised car and tech manufacturing, hinges on the ability to reduce lead times for orders. This is the challenge we're tackling with our second Grand Challenge, by creating a digital platform that will allow orders for clinical trial be placed much closer to the delivery date.
Leaders in innovation
We're entering a new age of medicine – dominated by increasingly complex medicines. The UK has and will continue to play a critical role in developing these medicines, supported by a world-leading network of research institutions and the unique infrastructure of the NHS.
These innovative therapies include an ever-expanding range of biological therapies, which use cells, proteins, or oligonucleotides like DNA and RNA to treat disease. While these therapies are revolutionising the way we treat conditions like cancer, their complex manufacturing processes could significantly increase pharma industry emissions and environmental impact.
Take oligonucleotide manufacturing, which uses large amounts of organic solvents. Reducing dependency on these carbon-based chemicals would make the manufacturing process significantly more sustainable. Our Medicines Manufacturing Innovation Centre is tackling this challenge, pioneering new production processes to reduce the amount of solvent needed.
Single-use plastic is also an issue in producing complex chemicals like RNA. Plastic tubing is still commonly used to prevent contamination and protect sensitive materials like RNA. This reliance on plastics results in a significant amount of contaminated waste, with biomanufacturers projected to produce approximately 112,000 tonnes of plastic waste per year globally by 2025. By exploring more sustainable options – including using UVC light to decontaminate tubing – we can make oligonucleotide production more cost-effective and environmentally friendly.
A pro-innovation environment
To make all these advancements a reality, we need the right environment to thrive. At our Medicines Manufacturing Innovation Centre – a unique collaboration for the pharmaceutical industry, we're working with industry, academia, and government to deliver the medicines of the future. We recently hosted the launch of Scotland's Innovation Strategy at our facility, where it was a pleasure to discuss our current grand challenges and our shared vision for sustainable medicines manufacturing in Scotland.
Innovation is at the heart of CPI's mission. We work with small businesses, entrepreneurs and large corporate enterprises to bring bright ideas to fruition. Ideas that will have demonstrable benefits for people, places, and our planet.
Enjoyed this article? Keep reading more expert insights...
CPI ensures that great inventions gets the best opportunity to become a successfully marketed product or process. We provide industry-relevant expertise and assets, supporting proof of concept and scale up services for the development of your innovative products and processes.
Stay updated with our insights by signing up to our newsletter