Meet our new Researchers in Residence, working towards a healthier future
The Researchers in Residence scheme invites academics from various fields to undertake a project in an area of strategic importance to the market.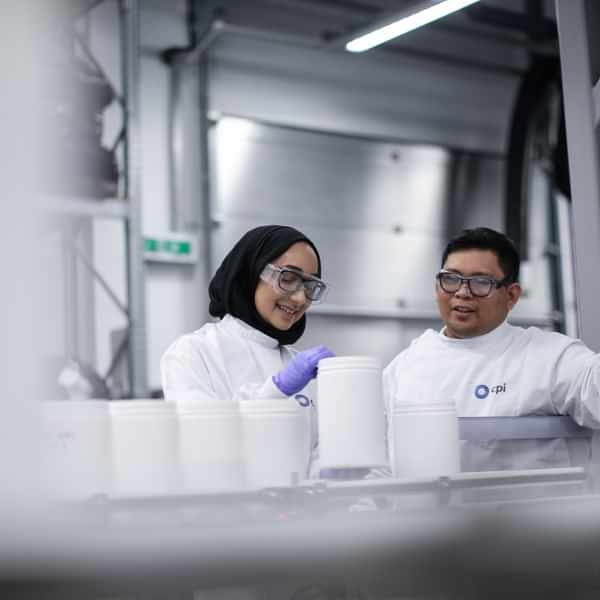 We're accelerating the latest scientific thinking from lab to impact – laser-focused on delivering on our mission to make things better for people, places, and our planet. That's why we jumped at the chance to be part of a new Researchers in Residence (RiR) scheme that welcomes leading researchers into CPI facilities.
Funded by the Engineering and Physical Sciences Research Council (EPSRC) and delivered by the Innovation Launchpad Network+ at the University of Sheffield, the Researcher in Residence (RiR) scheme connects researchers with Catapults – private, non-for-profit Research and Technology Organisations that unite innovators, government and industry. The scheme frees academics from their teaching responsibilities and other commitments to undertake a project in an area of strategic importance for Catapults.
The scheme's first round of funding awarded five academics £50,000 grants to collaborate with us over a period of three years. Congratulations and a warm welcome to:
Beatrice Melinek and Salome Alexandra De Sa Magalhaes, University College London: Technical developments towards commercialisation of a novel Cell-Free Plasmid

DNA

(pDNA) production platform
John Oyekan, University of York: Developing an intelligent digital framework to speed up lipid nanoparticle (

LNP

) drug delivery systems manufacture
Yvonne Perrie, University of Strathclyde: Optimising hit-to-lead ratio for high-throughput screening of Lipid Nanoparticles for the delivery of mRNA
Nazmul Karim, University of the West of England: Sustainable Electronic Textiles for Wearable Point-of-Care (PoC) Systems
Matthew Unthank, Northumbria University at Newcastle: Sustainable, recyclable, and repairable high-performance plastics and composites for industrial applications.
The RiR scheme is already increasing knowledge exchange and co-creation between our academic partners and CPI, and our joint intention is for all parties to develop skills and gain deeper application-specific knowledge across a range of sectors.
Impact first: manufacturing the future
We're excited that the researchers joining us also share our desire to drive positive change for people, places, and our planet.
Successful RiR grant recipients, Salomé Alexandra De Sa Magalhaes and Beatrice Melinek, have an ambitious, long-term plan to develop a compact, automated device for generating DNA for medical therapies. If successful, their device could help millions of people suffering from Ebola, HIV-AIDS, and malaria, and get a range of life-changing personalized medicines to patients.
Current manufacturing techniques use cells grown in bioreactors, but Beatrice and Salomé are proposing a next-generation method which bypasses this step. Their novel cell-free production platform could be substantially faster, more productive, and more robust.
"Imagine a coffee pod machine that produces DNA – with similar size and ease of use," says Suzanne Robb, Technology and Innovation Officer in Biologics at CPI. ​"A similar capsule-based approach will allow the user to pick their own flavour without any significant change in the production protocol they follow."
Moving from 3D devices to theoretical models, John Oyekan of the University of York is working with us to develop a smart digital framework to speed up the manufacture of lipid nanoparticles (LNPs). LNPs hold great promise for flu, HIV, and cancer vaccines, and offer a way of targeting proteins and gene therapies to where they're needed in the body. This is a field we're keen to contribute to after their success in COVID-19 vaccines.
"LNPs are a powerful technique," explains Katharina Roettger, Principal Scientist at CPI. ​"They protect medicines inside the body and make sure they reach the area where they're needed. But it's a relatively young technique and if you change the payload inside an LNP, you need to adjust everything about the way it's manufactured and ensure you have the right product at the end."
We're working with John to use digital twinning and machine learning to screen, select, and optimise LNP-encapsulated formulations for drug delivery. His work aims to overcome the current inefficient and wasteful evaluation and scale-up processes for encapsulation and purification – allowing pharma companies to get potential medicines into clinical trials faster and at lower cost.
Another RiR scheme with Yvonne Perrie of the University of Strathclyde is also working on LNPs. Her project seeks to better understand the choice of lipids used – which generally include a neutral structural lipid, a PEG-lipid to control particle size and an ionisable lipid, which binds the mRNA.
Translating scientific research into industry-specific innovations
During their residence with us, researchers will be able to access CPI's state-of-the art facilities. For Beatrice and Salomé, this means using the Janus liquid handler, lunatic plate reader and Perkin Elmer Lab chip. CPI's scientists, engineers and project managers will also share their expertise in process development, scale up and commercialization.
We've worked with companies such as Touchlight to produce DNA without using E. coli plasmids to grow it in. Beatrice and Salomé's approach is unique in using chromatography rather than enzymes to separate the DNA product from other proteins and impurities. CPI's high-throughput systems will analyse a wide range of potential chromatography resins to identify the best options and develop a pre-purification step.
"We hope that with CPI's support, we can make this technology available to a wide range of potential users," says Salomé.
In creating a digital model that incorporates information about the mixing, filtration, purification stages and so on, John's work will enable CPI and other researchers to run virtual experiments to test RNA encapsulation by LNPs.
"Creating our desired high-fidelity model is going to require a lot of work!" says John. ​"We'll be creating a mathematical model in which we can insert different parameters and change the properties of the RNA so we can understand how to produce a particular drug – something that will be critical for developing personalised medicines."
John will plug our existing data on encapsulating and purifying LNP-RNA systems – information that's not openly available elsewhere – into machine learning algorithms to develop his model. He will also be tapping into our networks and learning from the knowledge we've gained during CPI's role in the UK Government's vaccine taskforce.
Meanwhile, Yvonne will be bringing know-how from the University of Strathclyde over to CPI – on both how to characterise and screen LNPs and how to best manufacture them.
"What we're doing is about identifying the right nanoparticles for the right delivery system and the right target," explains Yvonne. ​"What we learn will be broadly applicable to people developing all kinds of new vaccines and therapies."
Nurturing talents and building skills for all
Salomé and Beatrice's residency is a great opportunity to build on our work with UCL. ​"We anticipate that the relationships we're building, and the exchange of know-how, will lead to further collaborations in the future," says Suzanne.
Yvonne Perrie is further developing a longstanding relationship with CPI in this new RiR scheme, having worked with us for several years. Meanwhile, the partnership with John is a new one. ​"With the residency, I'm embedding myself into an environment that enables me to gain understanding I can apply elsewhere," he says.
Katharina agrees: ​"We're learning to understand each other's languages, and that's what makes this scheme so valuable."
The third round of the RiR scheme is now open, to find out more visit the website of the Innovation Launchpad Network+.
Enjoyed this article? Keep reading more expert insights...
CPI ensures that great inventions gets the best opportunity to become a successfully marketed product or process. We provide industry-relevant expertise and assets, supporting proof of concept and scale up services for the development of your innovative products and processes.
Stay updated with our insights by signing up to our newsletter