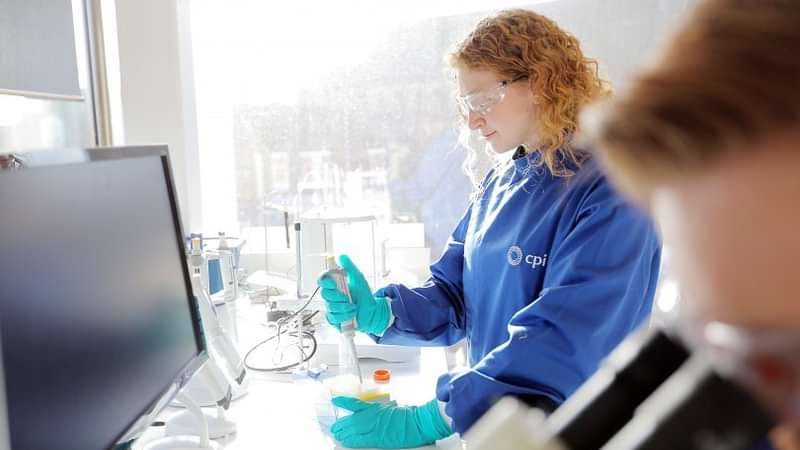 CPI

joins partnership to tackle the early diagnosis of Parkinson's disease
24

Feb

2022

We've joined a new partnership to develop a scaled manufacturing process for α‑synuclein (αSyn) protein to support the early diagnosis of Parkinson's disease.
Funded by The Michael J. Fox Foundation for Parkinson's Research (MJFF), the project brings together CPI with teams that include the contract research organisation Peak Proteins and the University of Edinburgh.
Real time quaking-induced conversion (RT-QuIC) assays have shown promise for achieving early diagnosis for diseases such as Parkinson's, multiple systems atrophy, and dementia with Lewy bodies. The RT-QuIC assays detect misfolded forms of the protein αSyn in patient biosamples, indicating the presence of these neurological diseases. The key reagent in the RT-QuIC assay is recombinant αSyn protein, which in its monomeric form acts as a substrate, enabling the seeding of any aggregated αSyn that is present in the biosamples.
To increase the quality of the data produced in RT-QuIC assays, a common, large supply of monomeric recombinant αSyn is required by research teams across the scientific community. To tackle this critical research challenge, this new partnership brings together the required knowledge, experience, and skills from across academia and industry aiming to produce αSyn at scale.
CPI's National Biologics Manufacturing Centre in Darlington will work with Peak Proteins to modify and scale up the production process for αSyn to full manufacturing scale and develop the associated quality control assays. Dr Alison Green's team from the Centre for Clinical Brain Sciences at the University of Edinburgh, will confirm that the recombinant αSyn produced is fit for use in the RT-QuIC assay.
Producing αSyn at scale through this collaboration will support the early diagnosis of neurological disorders. As therapies to slow or halt disease are in development, early diagnosis could mean early treatment and improved quality of life for the patient.
John Arthur, Director of the Medicines Manufacturing Innovation Centre and Biologics at CPI, said: ​"Developing a production process for monomeric recombinant αSyn from lab to manufacturing scale will provide a critical resource to help further progress disease research. We are proud to contribute our expertise in scale-up to this project, which if successful, will bring the world a step closer to the early diagnosis of Parkinson's and other neurological disorders."
Richard Mott, Technical Lead and Business Development Associate at Peak Proteins, said: ​"This is, without doubt, a very challenging project, but I firmly believe that if it can be done, then the MJFF have assembled just the right team of people, with the right combination of skills and expertise to make it happen."
Dr Nicole K. Polinski, Senior Associate Director of Research Programs at MJFF, said: ​"Obtaining large quantities of recombinant monomeric αSyn protein that is suitable for the RT-QuIC assay has presented a barrier to adoption of this important assay. The technical developments from Peak Proteins, manufacturing at CPI, and protein validation from the Green lab will no doubt help accelerate biomarker and therapeutic progress for Parkinson's disease."
Let's innovate together
To find out more about how we can work together, please enter your details below.