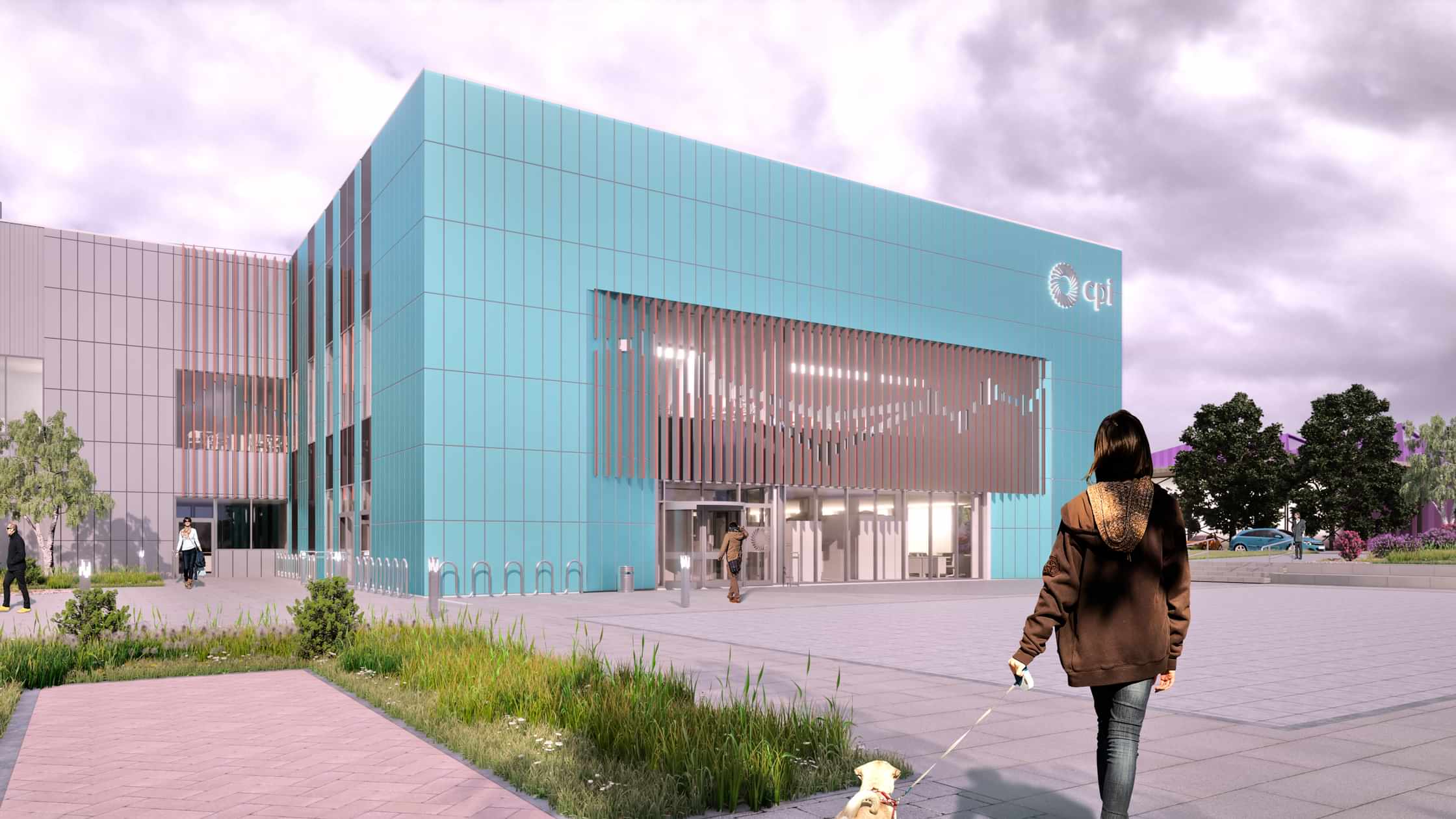 Construction starts on the Medicines Manufacturing Innovation Centre
26

Oct

2020

CPI has today announced the start of construction at the Medicines Manufacturing Innovation Centre in Renfrewshire, Scotland.
The new technology and innovation centre is set to become a unique and world-leading facility offering transformative solutions in small molecule and pharmaceutical manufacturing. It will accelerate the development and industrialisation of next-generation medicines manufacturing innovations and maximise technology opportunities within the medicines supply chain. Industry, academia, healthcare providers and regulators will work collaboratively within a GMP environment to address industry challenges and de-risk new technologies, providing a clear pathway for their widespread adoption within the pharmaceutical industry.
The Medicines Manufacturing Innovation Centre is a collaboration between CPI, the University of Strathclyde and founding industry partners, GSK and AstraZeneca with funding provided by Scottish Enterprise and UK Research and Innovation. The Centre has recently agreed partnerships with four leading technology companies to further strengthen the range of expertise in the collaboration.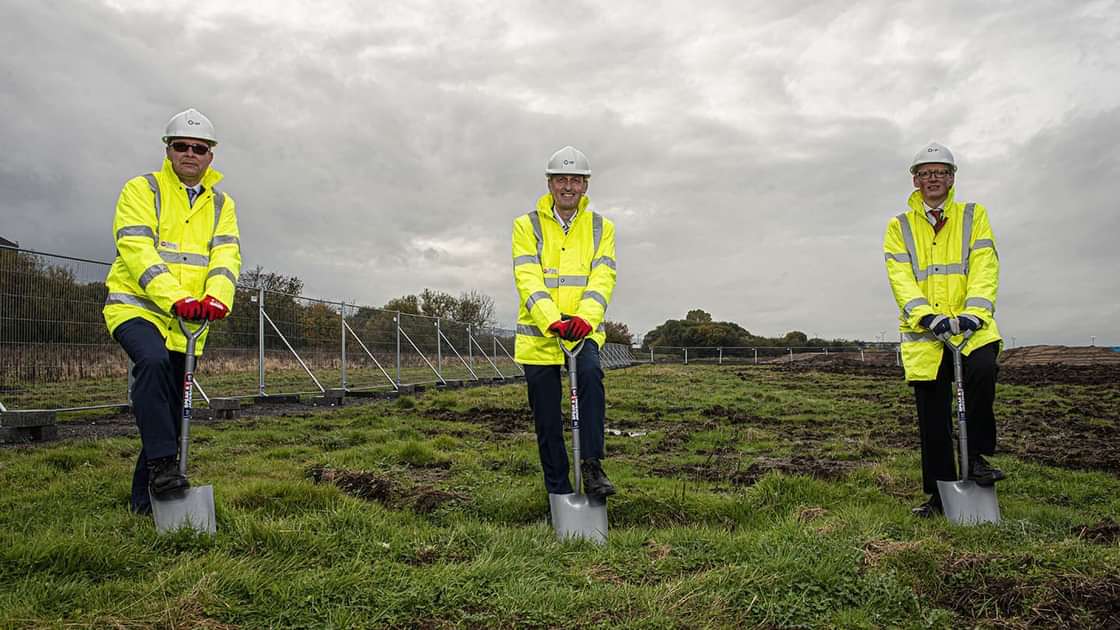 The facility will translate, at industrial and commercial scale, novel techniques for producing patient-centric medicines, including real-time release of drugs, and integrated process analytics to drive the transformation of medicines manufacturing. These technologies will enable a reduction in quantities of the materials currently required in process development; accelerate timelines to achieve just-in-time, right-first-time and real-time-release manufacturing principles; and ultimately accelerate access of affordable medicines for healthcare providers and patients.
Companies of all sizes will be able to use the facility to evaluate, test and prototype processes using an array of advanced Industry 4.0 manufacturing technologies, including continuous, digital and autonomous manufacturing. The utilisation of next-generation technology will enable more efficient drug production to protect future generations by bringing new medicines to market safely and quickly.
The facility is due for completion late 2021 and will be operational in early 2022. It is expected to eventually house over 80 staff in both technical and non-technical roles.
Nadhim Zahawi, Life Sciences Minister, said: ​"Backed with £13 million of government funding, this centre is the first of its kind and will significantly boost our domestic medicines manufacturing capability to ensure we are prepared for any future health crises. Complementing our state of the art Vaccines Manufacturing Innovation Centre in Oxfordshire, it will ensure we are at the forefront of transformational technologies, attracting tens-of-millions-of-pounds of investment to the UK and creating new highly-skilled jobs in the Renfrewshire area – a great example of how we are working to build back better."
Ivan McKee, Scottish Government Minister for Trade, Investment and Innovation, said: ​"The Medicines Manufacturing Innovation Centre is a tremendous boost to the Scottish economy, and a great endorsement of Scotland's strengths in life and chemical sciences. The Scottish Government is committed to attracting inward investment from global partners, whose investment in this project will help to create highly skilled jobs in Scotland in a vitally important sector. As an integral part of the Advanced Manufacturing Innovation District Scotland, the centre will put Scotland at the cutting edge of advanced pharmaceutical manufacturing, developing innovative technologies which will help to strengthen the pharmaceutical supply chain."
Professor Sir Jim McDonald, Principal and Vice-Chancellor of the University of Strathclyde, said: ​"As strategic partners in the Medicines Manufacturing Innovation Centre, the University of Strathclyde is utilising its research, innovation and internationally-leading experience and expertise in advanced medicines manufacturing to meet the biggest health challenges facing our world. We are delighted to be working in collaboration with our partners across industry, academia, government and healthcare to accelerate and transform the medicines manufacturing process. We are excited to see construction begin on what will be a distinctive and important asset to the Glasgow City region and to Scotland."
Jon-Paul Sherlock, Technology Strategy Lead at AstraZeneca, said: ​"Manufacturing innovation is critical to future pharmaceutical supply chains. Molecules are more complex, development times shorter and the expectations of patients and healthcare systems higher than ever before. However, for a highly regulated industry, innovation is risky and potentially expensive. This facility will enable close collaboration between industry, government and academia and will be a game-changer; resulting in faster industrialisation and implementation of exciting new opportunities."
Andy Jones, Medicines Manufacturing Challenge Director at UK Research and Innovation (UKRI), one of the Medicines Manufacturing Innovation Centre's main funders, said: ​"The Medicines Manufacturing Innovation Centre will play a key role in the infrastructure the UK is building, investing in medicines manufacturing innovation to tackle today's health challenges and those of the future. It will also be ideally placed to help turn great ideas into great business, ensuring that UK innovators can access a global, life sciences market worth some £98 billion."
Derek Shaw, Commercial Director at Scottish Enterprise, one of the Medicines Manufacturing Innovation Centre's main funders, said: ​"This is an important and exciting step in the development of the Medicines Manufacturing Innovation Centre, and the opportunities it will unlock for businesses through collaboration between academia, industry and government. Industry leadership and co-investment are central to shaping the facility and Scottish Enterprise is proud to have committed £15 million of funding alongside our partners."
Dave Tudor, Managing Director of the Medicines Manufacturing Innovation Centre, Quality and Biologics, at CPI, said: ​"We are thrilled to be starting the construction of this new, collaborative centre. The consortium is already working together on several ambitious projects with the aim to de-risk disruptive technology that can lower the cost of drug development. Live projects include a digitally-twinned continuous direct compression platform to increase the productivity of drug product manufacture, and an automated platform to enable just-in-time supply for clinical trials which will drastically cut lead times. We look forward to bringing that technology and cross-sector expertise to these new facilities."
Frank Millar, CEO at CPI, said: ​"Ageing populations, the increasing cost of drug development, and resource constraints impeding the adoption of emergent technologies are just some of the challenges facing the pharmaceutical industry today. The increasing financial burden on the healthcare system as a whole has led to a pressing need for more cost-effective medication. By connecting the dots between academia, government, industry and healthcare providers within this state-of-the-art centre, we can address these issues and transform the pharmaceutical supply chain for the future."
Watch the event
View a recording of the virtual ground break event.
Notes to the Editor
About the Medicines Manufacturing Innovation Centre

The Medicines Manufacturing Innovation Centre is a collaboration between CPI, the University of Strathclyde, UK Research and Innovation, Scottish Enterprise and founding industry partners, AstraZeneca and GSK.
The consortium aims to develop the medicines manufacturing processes of the future, enabling a more agile, responsive medicines supply chain through improved manufacturing processes. It will enable new and disruptive technologies to be proven at scale in a GMP environment. This will allow the rapid adoption of next-generation processes that reduce risk, cut costs and save time, enabling a healthier society and a robust UK economy.
With a collaborative innovation culture and state-of-the-art facilities, the centre will enable industry, academia, healthcare providers and regulators to work collaboratively in order to address challenges and maximise technology opportunities within the medicines supply chain.
The initial focus of the centre will be to deliver two​'Grand Challenges', with the first, in collaboration with CMAC University of Strathclyde, exploring how oral solid dosage medicines can be produced more robustly and efficiently utilising continuous direct compression. The second focuses on how these medicines can then be delivered to patients with minimal waste and maximum speed, using Just in Time manufacture and supply capabilities.
About
CPI
CPI works with partners to translate inventions into products and processes that enhance health and wellbeing, protect and improve our environment and increase productivity across industries.
With a deep understanding of technology fore-sighting, innovation processes and funding, outstanding technical expertise and industry-relevant assets, we enable the accelerated development of transformational products and processes that have the potential to disrupt and revolutionise markets. We also engage in incremental technological innovation that allows established products and processes to be optimised for better performance and efficient manufacture.
Through the breadth of our technology platforms, we support our partners across many diverse markets, including pharmaceuticals, speciality chemicals, food and drink, electronics and transportation.
About the University of Strathclyde
For more than 200 years, the University of Strathclyde has been meeting the needs of students, employers, industry and wider society through world-class research, teaching, innovation and enterprise. Today, as a leading international technological University, Strathclyde works side-by-side with business, industry, government and the public sector, to improve health, safeguard the future of energy supplies, set new standards in manufacturing, and pioneer technologies. Its entrepreneurial environment makes Strathclyde the partner of choice for growing numbers of organisations across the world, and has been recognised through the award of Times Higher Education UK Business School of the Year, Entrepreneurial University of the Year, and University of the Year.
About Scottish Enterprise
Scottish Enterprise is Scotland's national economic development agency. We're committed to growing the Scottish economy for the benefit of all, helping create more quality jobs and a brighter future for every region.
Follow us on Twitter at https://​twit​ter​.com/​s​c​otent and https://​twit​ter​.com/​S​c​o​t​E​n​tNews
Follow us on Facebook at https://​www​.face​book​.com/​s​c​o​t​t​i​s​h​e​n​t​e​r​prise
About
UK

Research and Innovation

This project has been funded by the Industrial Strategy Challenge Fund, part of the government's modern Industrial Strategy. The fund is delivered by UK Research and Innovation.

The Industrial Strategy Challenge Fund brings together the UK's world-leading research with business to meet the major industrial and societal challenges of our time. It provides funding and support to UK businesses and researchers, part of the government's £4.7 billion increase in research and development over the next 4 years. It plays a central role in the Government's modern Industrial Strategy.

UK Research and Innovation is a new organisation that brings together the UK Research Councils, Innovate UK and Research England into a single organisation to create the best environment for research and innovation to flourish. The vision is to ensure the UK maintains its world- leading position in research and innovation.
Let's innovate together
To find out more about how we can work together, please enter your details below.