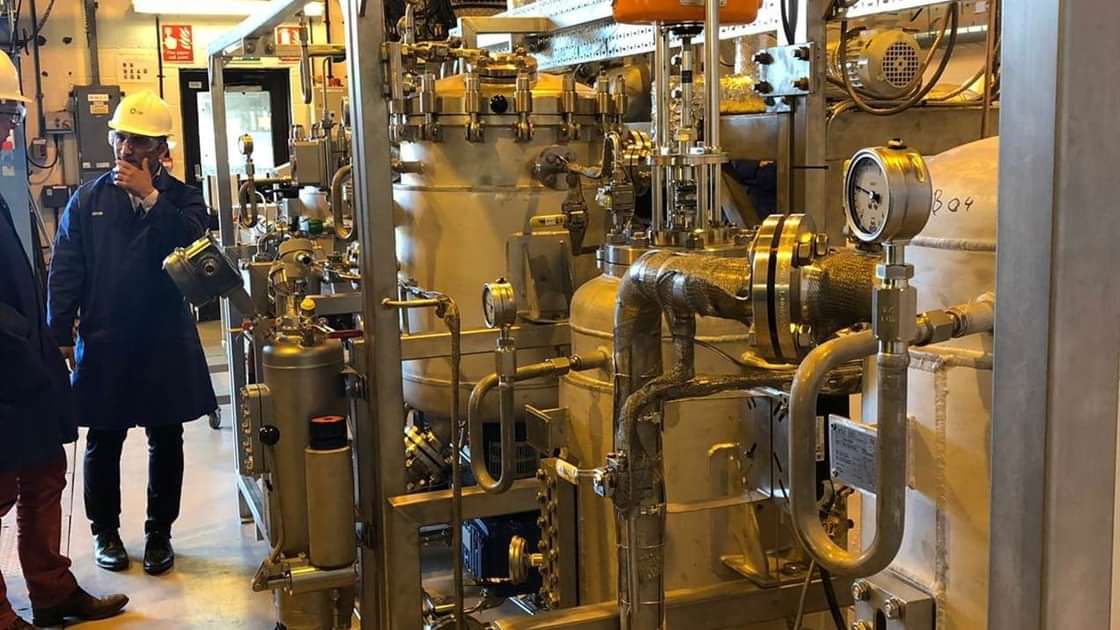 Worn Again Technologies raises €
8

million investment, accelerating its progress towards commercialisation
23

Jun

2020

Worn Again Technologies, the unique polymer recycling technology firm, has today announced that it has secured up to €8 million in new equity capital from investors, including follow-on commitments from two of its existing strategic investors, H&M Group and Sulzer.
This announcement comes soon after the opening of Worn Again Technologies pilot R&D facility in January 2020 which is being hosted at CPI's open access facilities in Wilton, UK and represents a significant step towards commercialisation for the Worn Again's team.
This significant financial backing is a vote of confidence in the company's enhanced recycling technology and proposed circular licensing business model, which promises to be crucial in closing the loop in the end-of-use polyester and polycotton/​cellulose textile industry. The investment provides over two years of operating capital and will be used to accelerate and complete the company's fundamental technology development through the R&D phase. It will also provide the base financing required for the next phase of bringing the technology to market.
Through these ongoing strategic partnerships with two global industry players, Worn Again Technologies will benefit from the world-leading expertise of H&M Group's supply chain and consumer-facing business, as well as the advanced manufacturing and industrial capabilities of Sulzer Chemtech.
CPI has provided Worn Again Technologies with a suitable facility to locate their pilot plant. CPI's team of engineers and operational staff have supported the assembly and commissioning of the pilot facility by providing key safety engineering expertise and working collaboratively with the Worn Again Technologies' engineers throughout. In the coming months, CPI will be supporting Worn Again Technologies to develop and scale-up their process technology, initially piloting of the polyester recovery process, followed rapidly by the cellulose process towards the end of 2020.
In preparation for the next phase of development – a larger demonstration facility expected in 2021 – Worn Again Technologies is engaging other potential stakeholders, in addition to H&M Group and Sulzer. This will build on the processes established within CPI's open access facility. Work is also currently underway with end-of-use textile collectors and sorters on the WA-Feedstock specification. With essential support from investors and a strong scale-up plan, validation of the company's innovation is on the horizon, a crucial step towards the industrialisation of this ground-breaking technology.
Kris Wadrop, General Manager Biotechnology and Step-Out business units at CPI, said: ​"We are very excited that Worn Again Technologies has secured this investment in their path towards commercialisation. Our engineers have been working alongside Worn Again Technologies' engineers at our new Pilot Plant Laboratory; this is a purpose built area for companies to install and operate their novel pilot processes. The CPI team provides expertise in safety studies, engineering design, installation, commissioning and operations. CPI is proud to play a part in bringing the commercialisation of this innovative and sustainable process to life that has could have a significant impact on the future of the circular economy in both eliminating waste from fast fashion and plastic pollution."
Keith Wiggins, recently appointed CEO of Worn Again Technologies, commented: ​"It is a pivotal time for H&M, Sulzer and others to be investing in Worn Again Technologies. It shows that global industry leaders are behind our company's unique technology which can replace the use of virgin resources by recapturing raw materials from non-reusable products. The investment is a considerable step forward in building momentum for Worn Again's technology for the emerging circular economy."
About Worn Again Technologies
Worn Again Technologies is a technology licensing company that is developing unique polymer recycling processes that will enable raw materials in textiles and polyester packaging to be kept in constant circulation, driving economic, social and environmental benefits.
The technology has been developed to support the shift from linear supply chains to a circular system where raw materials are recycled, reducing the use of the worlds finite resources.
The company has valued strategic investors including H&M Group, Sulzer, Himes Corporation and Directex, as well as the support of influential brands and partners, such as Kering, ASICS Europe, Sympatex, Dibella and Dhana.
In recent years, Worn Again Technologies has been part of the movement to develop the circular economy. The company has benefited from engagement with many parts of the industry, including grant funding, and direct collaboration with the Fashion for Good scaling program, Cradle to Cradle (C2C) initial certified outputs, and EU-Interreg funded Fibersort textile sorting project. Worn Again Technologies is proud to have received the ANDAM Innovation Prize, and to recognized by PCIAW as an Outstanding Contribution to the Textile Industry.
www​.wor​na​gain​.co​.uk
@wornagainuk
Let's innovate together
To find out more about how we can work together, please enter your details below.
CPI is your innovation partner to make your ideas a reality.