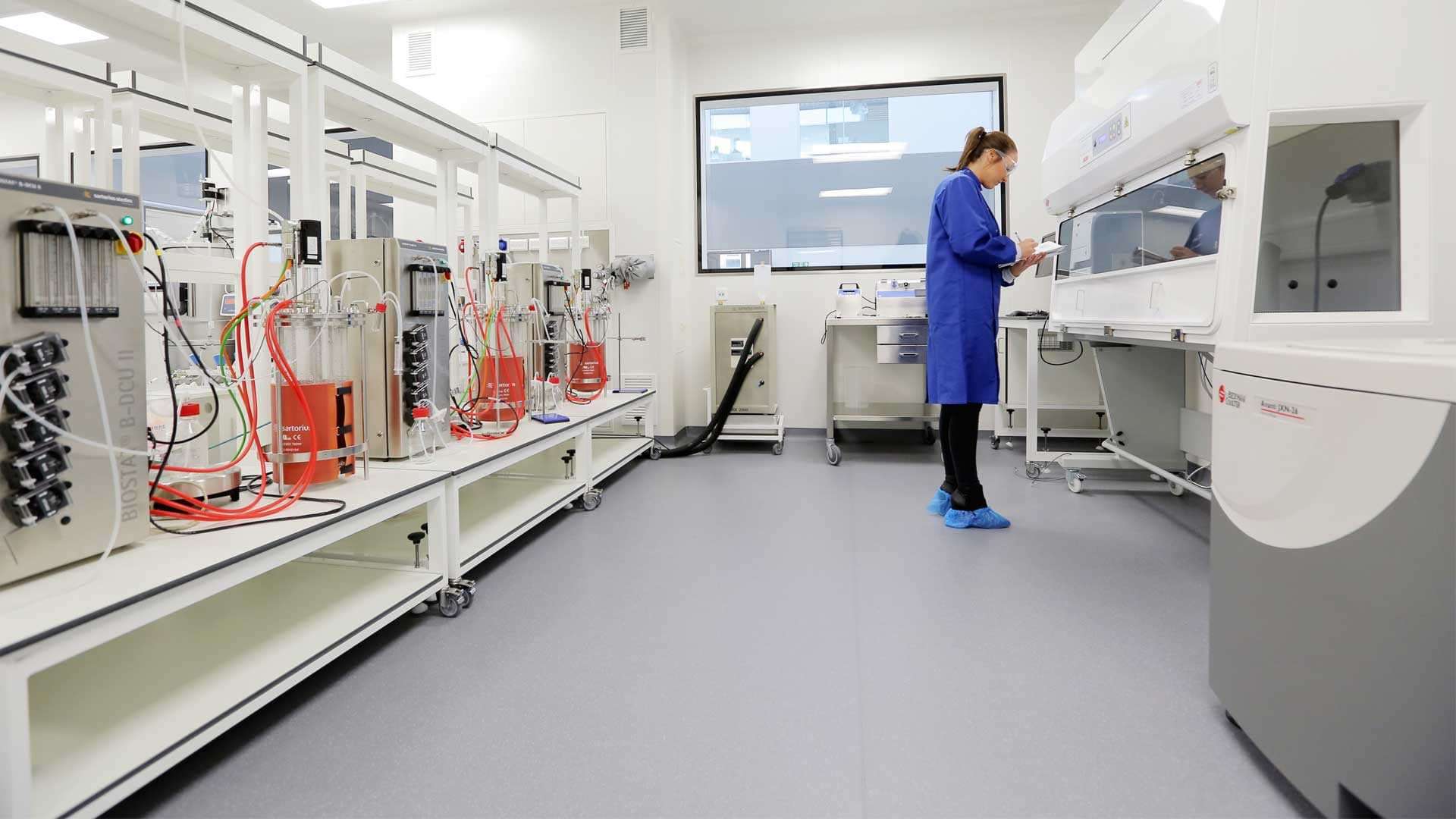 Focus on… Upstream Processing
03

Aug

2016

CPI's National Biologics Manufacturing Centre is home to a highly skilled team of industry experts, technicians and scientists who are experienced across a range of disciplines within biopharmaceutical development and manufacture. It is our employees that make CPI such an innovative place to work and ensure efficient delivery of projects to our partners.
Here we focus on CPI's Upstream Processing Team, their previous experience within industry and their current roles within CPI.
Jonathan Welsh – Senior Upstream Scientist Jonathan leads the upstream team within CPI's National Biologics Manufacturing Centre. He provides technical leadership and is responsible for the planning and delivery of upstream cell culture activities. Jonathan completed MSc and PhD degrees in Biochemical Engineering at the University of Birmingham. After some years of post-doctoral research activities, he moved into industry. He gained technical expertise in mammalian cell culture from cell line cloning and clone selection to process development, optimisation, scale-up and transfer. Jonathan has 15 years of experience in the biologics industry. Prior to joining CPI, his role was Principal Scientist at Lonza Biologics where he led upstream activities on customer and internal projects.
Didier Kindembe – Upstream Scientist Didier is an Upstream Scientist at CPI. He is responsible for designing and executing fermentation and mammalian cell culture processes to express recombinant proteins. Didier has more than 10 years experience in the Biopharmaceutical industry.
Prior to joining CPI, he worked as a Research Scientist at UCB, where he was required to develop and characterise highly-productive stable CHO cell lines suitable for cGMP biotherapeutic manufacturing. He was also involved in continuous improvement of current technologies and implementation of new technology developments within the area of protein expression. Didier is a graduate of Reading University where he received a BSc in Biotechnology, he is also a graduate of Oxford University where he obtained an MSc in Bioinformatics.
Suzanne Robb – Upstream Scientist Suzanne is an Upstream Scientist at CPI. Suzanne brings significant expertise in the operation of automated systems for high throughput upstream process development and optimisation.
Prior to joining CPI, Suzanne was an R&D scientist at FUJIFILM Diosynth Biotechnologies for over 5 years researching, developing and optimising customer processes for manufacturing from shake flask to stainless steel steam in place reactors to transfer to manufacturing scale. Suzanne completed her degree at Sheffield Hallam University where she achieved a first class Biomedical Sciences degree with honours.
Jonathan Jones – Development Scientist Jonny is a Development Scientist within the Upstream team at CPI. His current role primarily centres on mammalian cell culture process development from shake flask to 200L scale.
This ranges from routine subculture through to the design and preparation of lab/​pilot scale systems and the subsequent analytical support such as metabolite, off-gas and protein titre analysis. Jonny graduated from the University of Edinburgh with a BSc in Biological Sciences and then completed an MSc at the University of York in Bioscience Technology.
Upstream Processing capabilities at CPI CPI has upstream laboratory facilities equipped with state-of-the-art technologies to support the development, demonstration and scale-up of bioprocesses. The micro-Matrix and ambr250 minibioreactors allow scale-down, high-throughput evaluation and optimisation of critical process parameters. Optimised processes can be scaled-up and demonstrated at laboratory and pilot scale.
Our work is supported by a range of static and shaking CO2 incubators for flask culture. We have a Roche CEDEX HT bioanalyser, COBAS blood gas analyser, ViCellTM automated cell counters and osmometers for in-process sample measurements. We also have ‑80oC freezers and liquid nitrogen cryobanks for long term storage of cell lines.
Our upstream processing activities cover both mammalian and microbial expression systems.
Mammalian
Our mammalian cell culture capabilities are focused on the use of customer and partner supplied cell lines to produce and optimise the production of a wide range of biopharmaceutical products, recombinant therapeutic proteins and attenuated viruses (e.g. AAV).
Microbial Our microbial capabilities are based on the use of a variety of microbial systems for the production of recombinant proteins (soluble and insoluble).
Combined service offerings
Establishment and storage of research cell banks Cell line/​strain screening and evaluation
Development of robust and scalable processes using QbD and DoE approaches
Production and supply of pilot scale materials for downstream process development, analytical testing or other non-GMP studies
Development of process models
Let's innovate together
To find out more about how we can work together, please enter your details below.