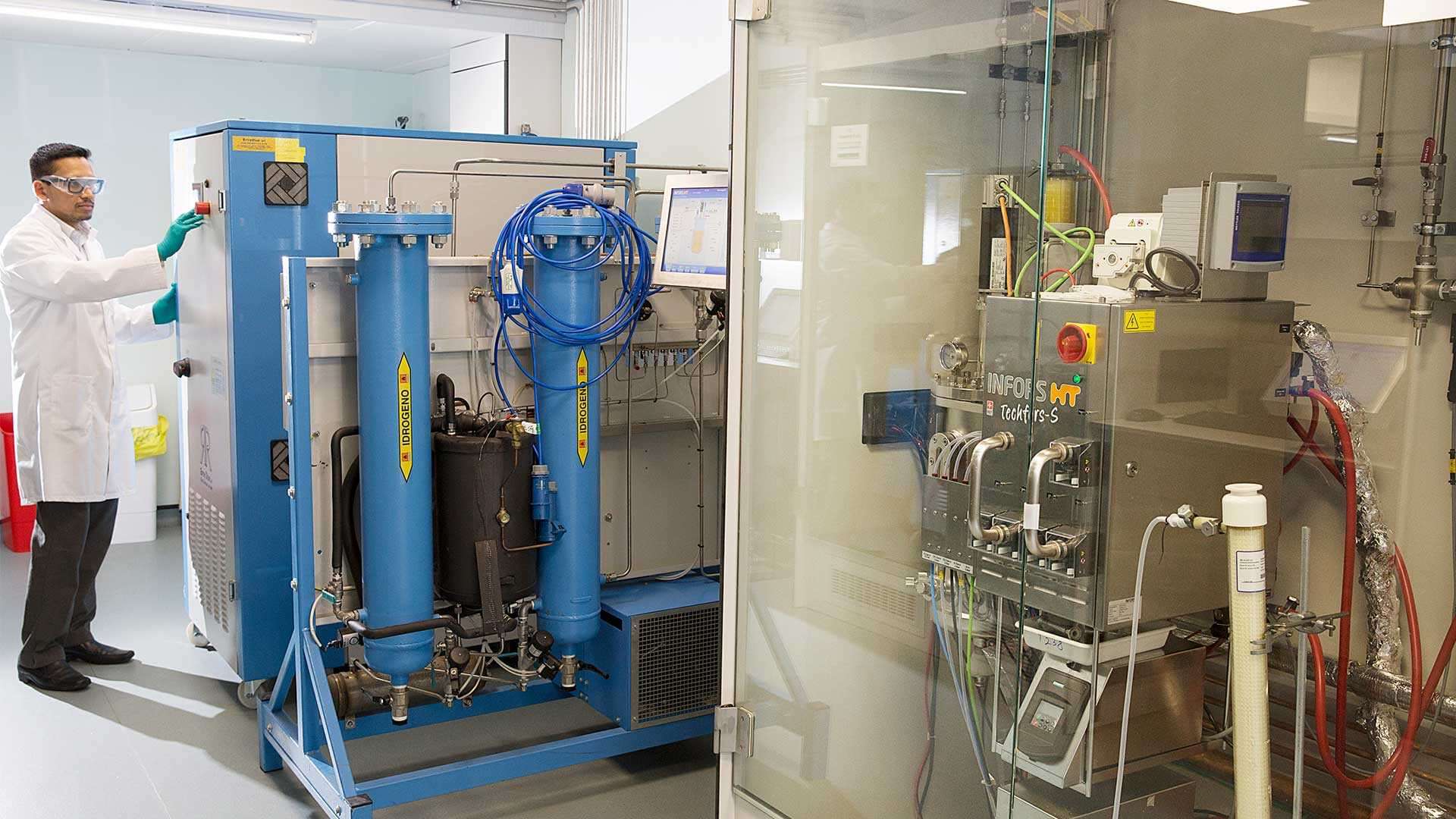 Design and Build of New C

1

Gas Fermentation Facility
28

Sept

2015

CPI's new C1 gas fermentation development laboratory is designed to support fermentation process development at 1 to 10L scales utilising C1 gases and hydrogen as feedstock's as well as traditional carbohydrate growth substrates
The open access facility will help the scientific community to develop and characterise fermentation processes utilising C1 gasses for the production of value added products such as platform chemicals, intermediates and bio-plastics with tangible economic and environmental advantages.
The delivery of a laboratory facility that allows safe operation of fermentation processes utilising flammable and potentially explosive gases requires a high degree of consideration at the design and build stage. CPI was able to draw on the skills of its engineers and safety experts, bringing in external consultants where needed, to successfully accomplish this complex project.
The facility is equipped with a sophisticated array of gas monitoring, detection and control equipment. Each fermenter system is located within its own dedicated extracted cabinet which, together with the main laboratory area, are continuously monitored to ensure adequate extract flow and, through sensitive gas detectors, any leaks of process gases. All monitoring systems are linked to a safety panel from which automatic isolation of gas supplies and alarm states are triggered under defined scenarios, this enables the facility to allow safe operation with a range of gases and gas mixtures.
Under routine operation the mixture of gases supplied to each fermenter is set using the fermenter control software and its composition in the fermenter headspace is continuously monitored through mass spectral analysis of the exit gas flow. This data is returned to the corresponding fermenter where the gas flow rates can be automatically adjusted using programmed control sequences. These feedback systems provide both process and safety control by ensuring the composition of the gas mix is optimal for the growth of the microorganism under study and, importantly, also maintained within the defined safe operating window. The facility is being successfully operated using CO2, hydrogen and air mixtures as feedstock in support of existing customer projects.
The launch of the C1 gas fermentation facility addresses a gap in capacity whilst providing a facility that will help and support the exploitation of this technology and provide.
It addresses the need for sustainable chemical processes and products which reduce our dependency on fossil fuels. This includes the bio-plastics market which is expected to show annual growth of 10 – 30% (International Energy Agency IEA Bioenergy). This project will not only benefit our partners, our links with industry and academia but it will help the UK government meet the targets associated with the bio-economy and will have a positive market impact.
The facility provides a place where CPI can train the next generation of scientists and engineers in support of STEM activities.
Let's innovate together
To find out more about how we can work together, please enter your details below.