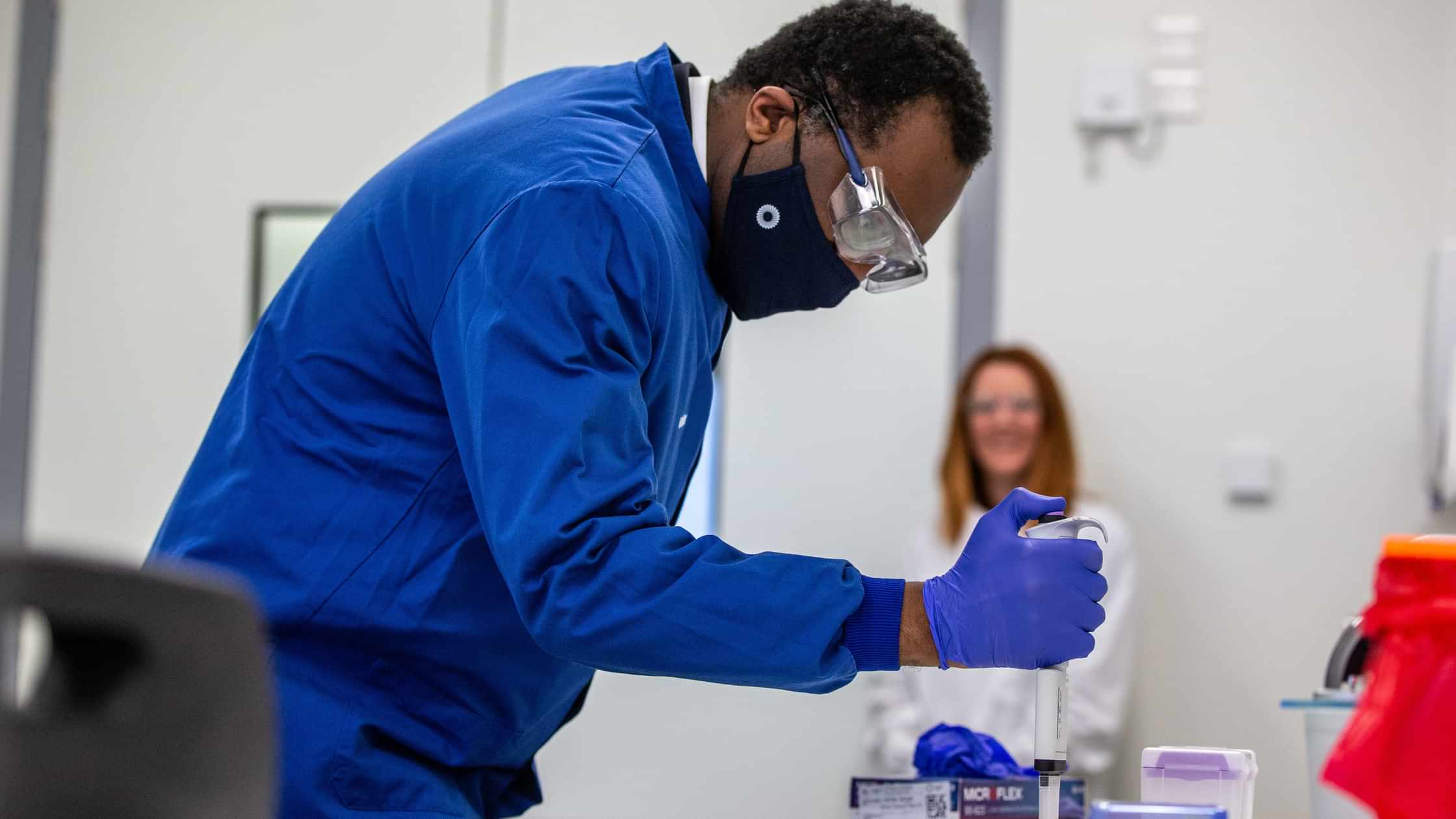 CPI

welcomes Business Minister Kwasi Kwarteng to learn more about world-leading mRNA

COVID

vaccine development capability
11

Mar

2021
The minister's visit follows a further £
5

million investment awarded to

CPI

as part of the Government's vaccines package announced in the recent Budget
CPI today welcomed Secretary of State for Business, Energy and Industrial Strategy, Kwasi Kwarteng, to its base in Darlington to hear more about plans for the development of an mRNA ​'vaccine library', which will help in the ongoing fight against coronavirus. This UK-led science will play a major role in the international efforts to future-proof our resilience to new variants of COVID-19.
CPI was awarded a further £5 million investment to support its world-leading capability in mRNA vaccine technology, which was announced as part of last week's Budget announcement by chancellor Rishi Sunak.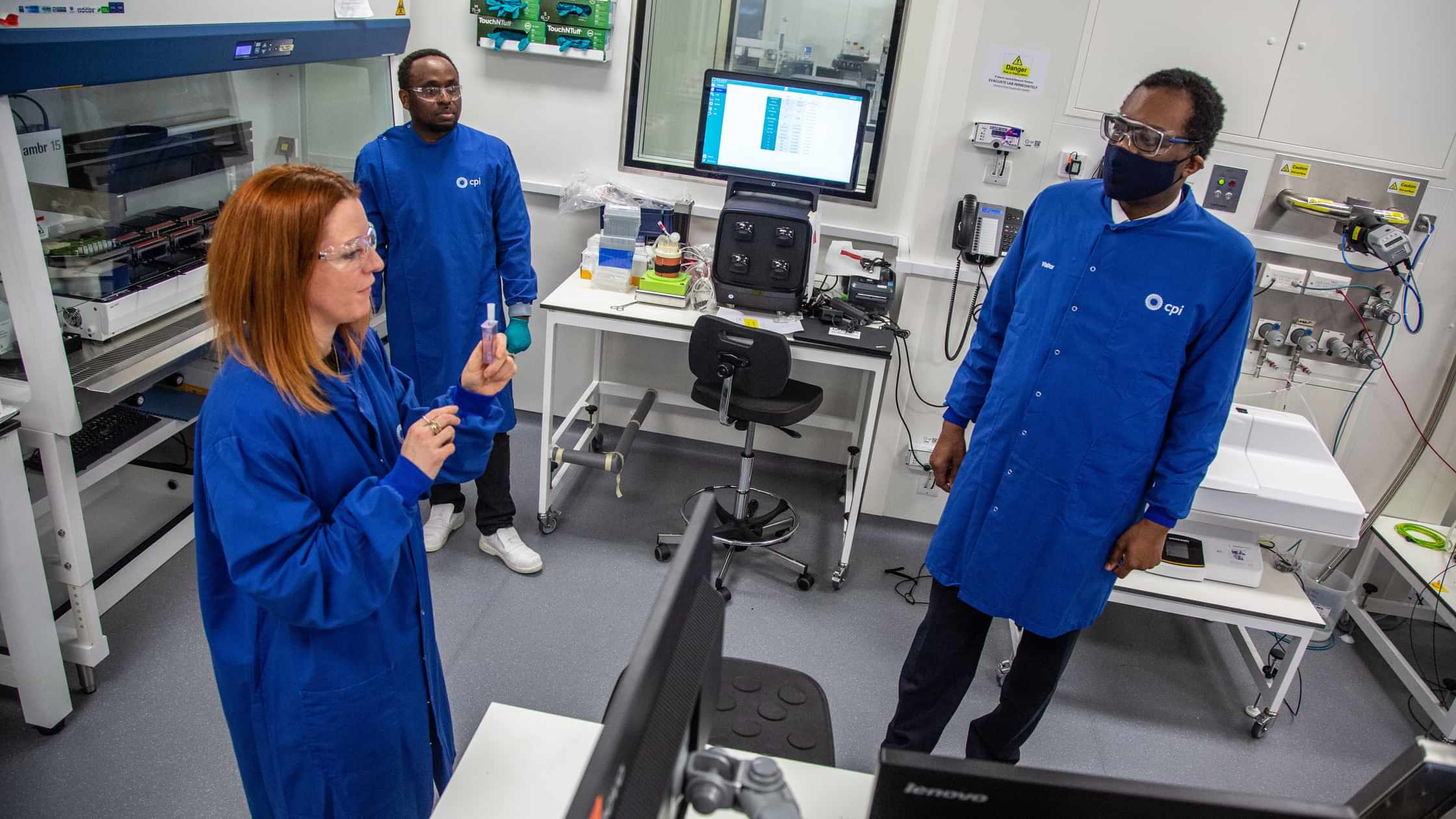 CPI CEO Frank Millar said: ​"The world-leading science we're developing here in Darlington will be an essential part of the ongoing fight against coronavirus. As we prepare for a future living with the threat of COVID-19, the library of vaccine candidates we are building will help future-proof against further outbreaks caused by new strains of the disease. It will mean that as soon as a new strain of COVID-19 is identified, the relevant vaccine can be selected and rapidly manufactured for use in clinical trials, in a very similar way that we see flu vaccines developed each year."
Business Secretary Kwasi Kwarteng said: ​"CPI in Darlington is playing a critical role in our national effort against COVID-19, and it was fantastic to see cutting-edge vaccine development happening right here in the North East.
"We're backing CPI's life-saving work with an additional £5million, which will further support our scientists and researchers to rapidly respond to new virus variants if they emerge."
Tees Valley Mayor Ben Houchen, said: ​"CPI is a fantastic example of a local organisation at the cutting-edge of biosciences and I was delighted the Secretary of State could see the great strides the centre is making for himself. Along with the amazing work done by CPI, scientists across Teesside, Darlington and Hartlepool are playing a crucial role in the global fight against the coronavirus.
"In Billingham FUJIFILM Diosynth Biotechnologies will produce all 60million doses of the Novavax vaccine, should it be approved by regulators hopefully in a few weeks, and now this funding is paving the way for us to play an even more critical role in protecting people's health in rolling out new vaccines quickly.
"This is on top of the vital support that CPI gives other businesses, helping them to grow, bring new products to the market, create jobs and boost our economy. The biosciences and healthcare sectors are a key party of my plan for jobs and these investments will continue to keep CPI — and the region — at the forefront of its field."
The vaccine library will form the basis of a rapid response facility, which will enable mRNA vaccines to be developed to help protect against new variants of COVID-19 as and when they emerge. When new variants of COVID-19 are identified, their DNA can be used to develop mRNA vaccines in a matter of days. The vaccines will be banked in a​'vaccine library', ready for future manufacture and scale-up when needed, with the potential to deliver enough doses for clinical trials in a week.
CPI, part of the High Value Manufacturing Catapult, has been working with the UK Vaccine Taskforce since March 2020, applying its world-leading expertise in the development of mRNA vaccines to support the fight against coronavirus. CPI is currently the only company based in the UK capable of batch developing mRNA vaccines ready for use in clinical trials and manufacture.
Let's innovate together
To find out more about how we can work together, please enter your details below.