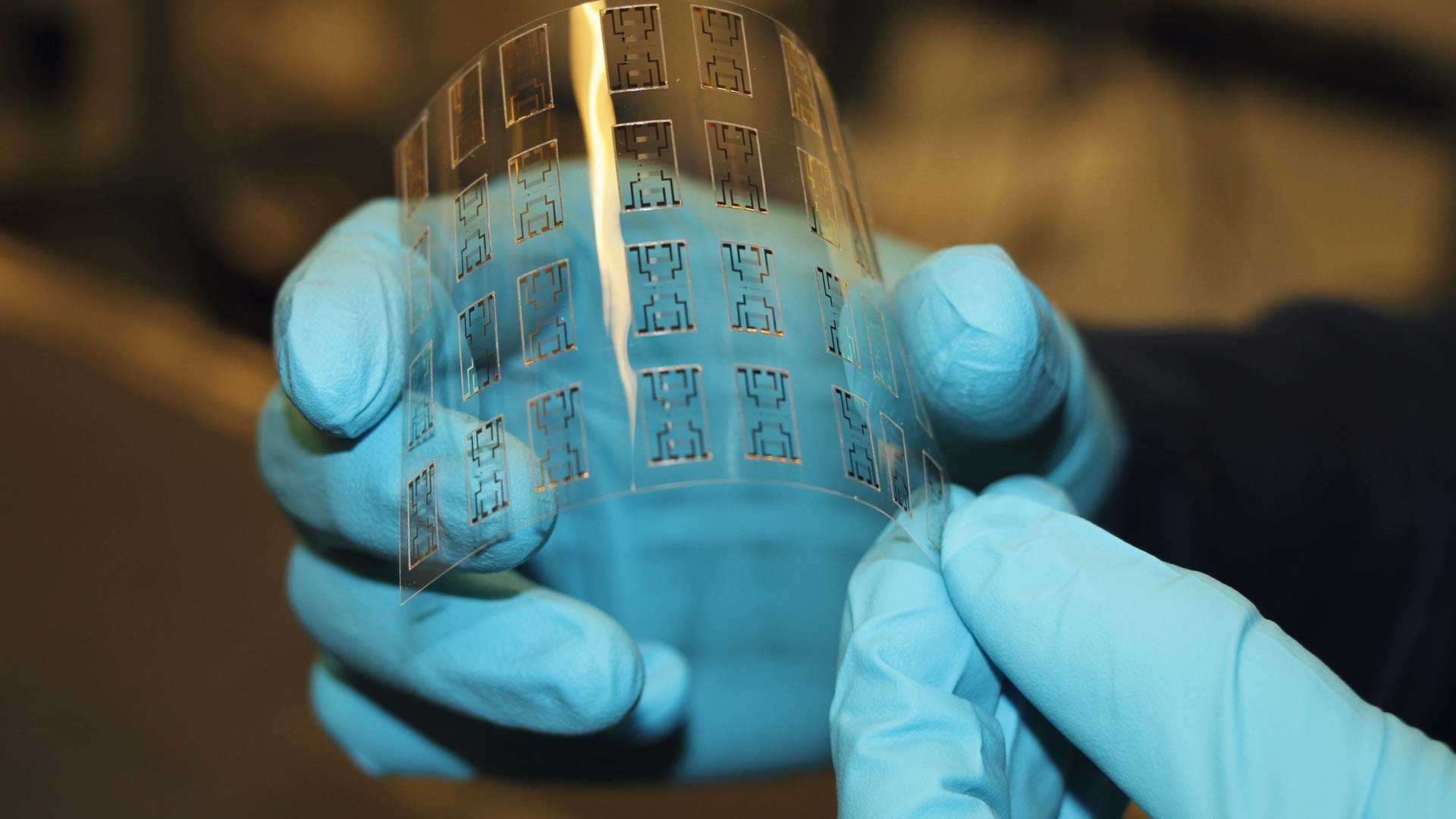 World's Most Popular Transistor Gets a Flexible Upgrade
26

Nov

2013

PragmatIC Printing Ltd, the pioneer in imprinted electronic logic, who are based at CPI's National Printable Electronics Centre, recently announced a new family of flexible IC (integrated circuit) products designed to mirror the functionality of the de-facto standard 7400 series.
PragmatIC's flexible ICs are suitable for direct integration into a wide range of printable electronics applications, enabling intelligence and interactivity in novel form factors without the need for expensive and rigid silicon chips. Initial products are supplied on 25µm polyester film (thinner than a typical human hair) and are visually transparent other than the contact pads. Future versions under development reduce the thickness to less than 10µm (about the diameter of a red blood cell) and offer complete transparency.
PragmatIC will also supply versions of its flexible ICs assembled onto dual in-line package (DIP) mounts for easy handling during prototyping – for example, enabling pin-compatible ​"drop-and-replace" breadboarding of functionality.
This approach allows designs to be fully validated prior to moving into volume production as an optimised flexible ASIC (application-specific integrated circuit), leveraging the advantages of PragmatIC's imprinted logic platform to minimise footprint and cost.
PragmatIC has already shipped prototypes of its IC products to several blue-chip customers, and will release the first standardised products in 2014. These products will be available publicly via commercial distribution channels and directly from PragmatIC's website. In addition, PragmatIC's integration licensees receive preferential terms on these products. Scott White, Chief Executive Officer of PragmatIC Printing, stated ​"This is a significant milestone for the printed electronics industry, moving us another step closer to the proven design environment that has supported the dramatic success of silicon over the past several decades."
In addition, PragmatIC Printing have also recently announced a collaboration with Andrews & Wykeham Ltd to deliver a range of novel security products based on PragmatIC's flexible electronic circuits. Commencing in 2014, Andrews & Wykeham is planning to commission a complete printed electronics integration and conversion line. This high-speed roll-to-roll facility will be targeted at a new generation of security foils and labels that leverage PragmatIC's ultra-thin, flexible and low cost electronic logic. Enabled functionality will include both overt visual features and machine-readable features, activated by RFID readers and smartphones. Such features have applications across many aspects of security, including personal identity, document authentication, and revenue and brand protection.
Let's innovate together
To find out more about how we can work together, please enter your details below.