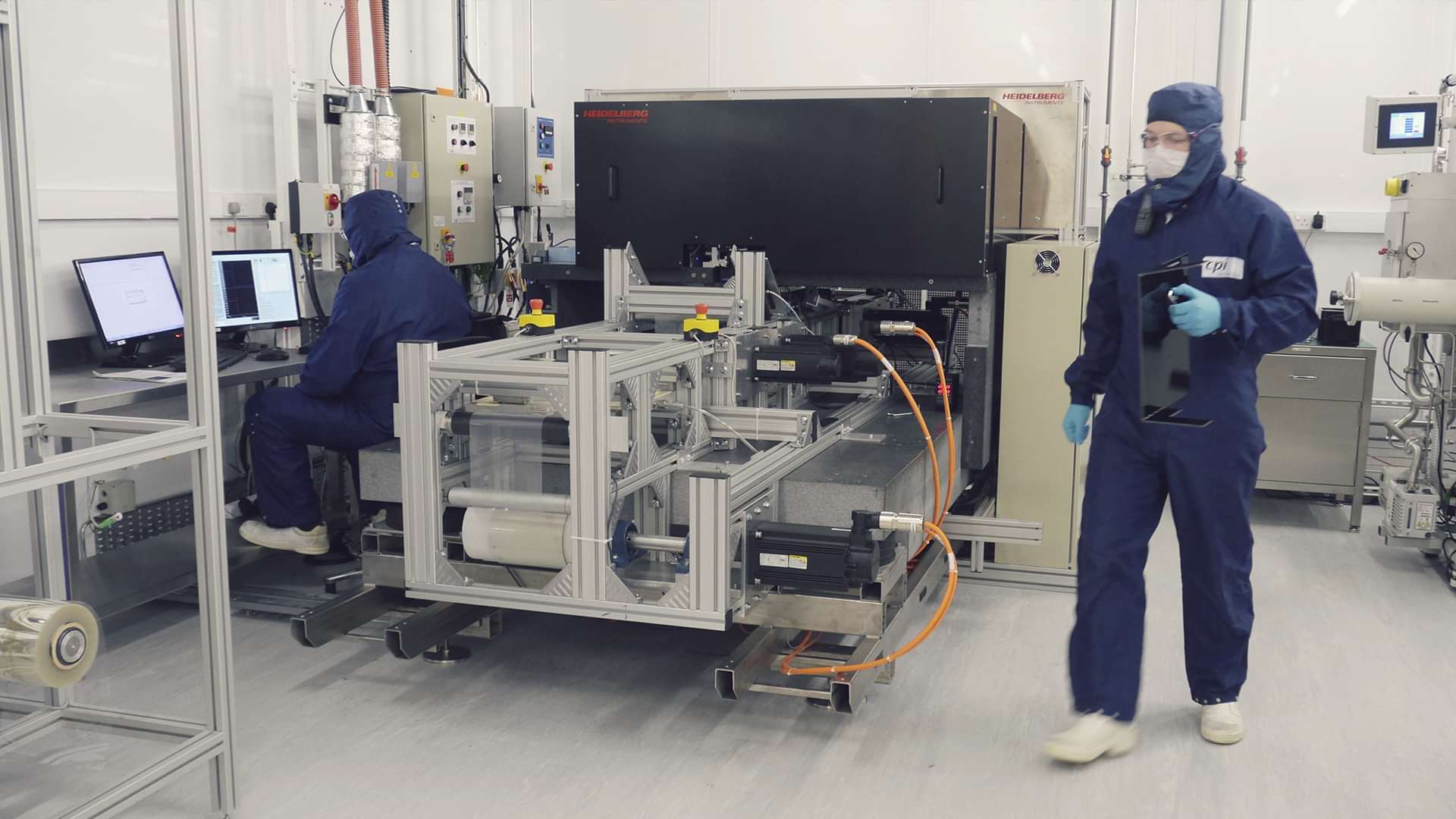 CPI

install Roll to Roll Digital Lithography Line
15

Feb

2016

CPI and Heidelberg Instruments have announced that they have developed a new high resolution, high speed roll to roll digital lithography tool for the manufacture of flexible organic thin film transistors (OTFT) used in next generation applications such as foldable display screens, sensors, integrated circuits and photo-detectors.
The machine, which is installed at CPI's National Printable Electronics Facility in County Durham, is a significant stepping stone in the commercialisation of printable electronic devices because it provides the ability to continuously manufacture OTFTs directly onto rolls of plastic film at rates approaching 0.1 m²/​min.
Across industry, products that use thin-film transistors with non-standard shapes and sizes or custom integrated circuits struggle to reach mass market adoption due to the high cost of manufacturing smaller volumes and the limitations imposed by print resolution and production speed. Digital lithography, sometimes referred to as ​"laser direct imaging" or LDI, eliminates the need for photomasks by guiding a laser with computer generated imagery to directly expose light-sensitive material. This substantially reduces production time and lowers manufacturing cost, opening the technology up for shorter production runs and custom designs.
The key feature of the new tool is its ability to expose rolls of film with digital images generated in real time, thereby allowing it to dynamically compensate for any distortions present in each layer of the transistor as it is built up. It does this by using a state-of-the-art optical exposure engine along with a laser and digital mirror device capable of through-putting up to 150 megabytes per second of image data. The system is capable of four micron line and space resolution in the printed pattern using a print density equivalent to twenty five thousand dots per inch. It uses an exposure wavelength of 355 nanometres and is compatible with a wide range of standard i‑line photoresist materials as well as being suitable for other UV-curing processes.
The digital lithography line compliments existing organic semiconductor device manufacturing capability at CPI and it will also be of interest to companies who require high resolution continuous patterning of thin films on plastic. The project received financial assistance from Innovate UK through the European Commission's ERA-NET Plus scheme OLAE+, project number 620063 along with sponsorship by the German Federal Ministry of Education and Research, funding program Photonics Research Germany, contract number 13N12635.
Let's innovate together
To find out more about how we can work together, please enter your details below.