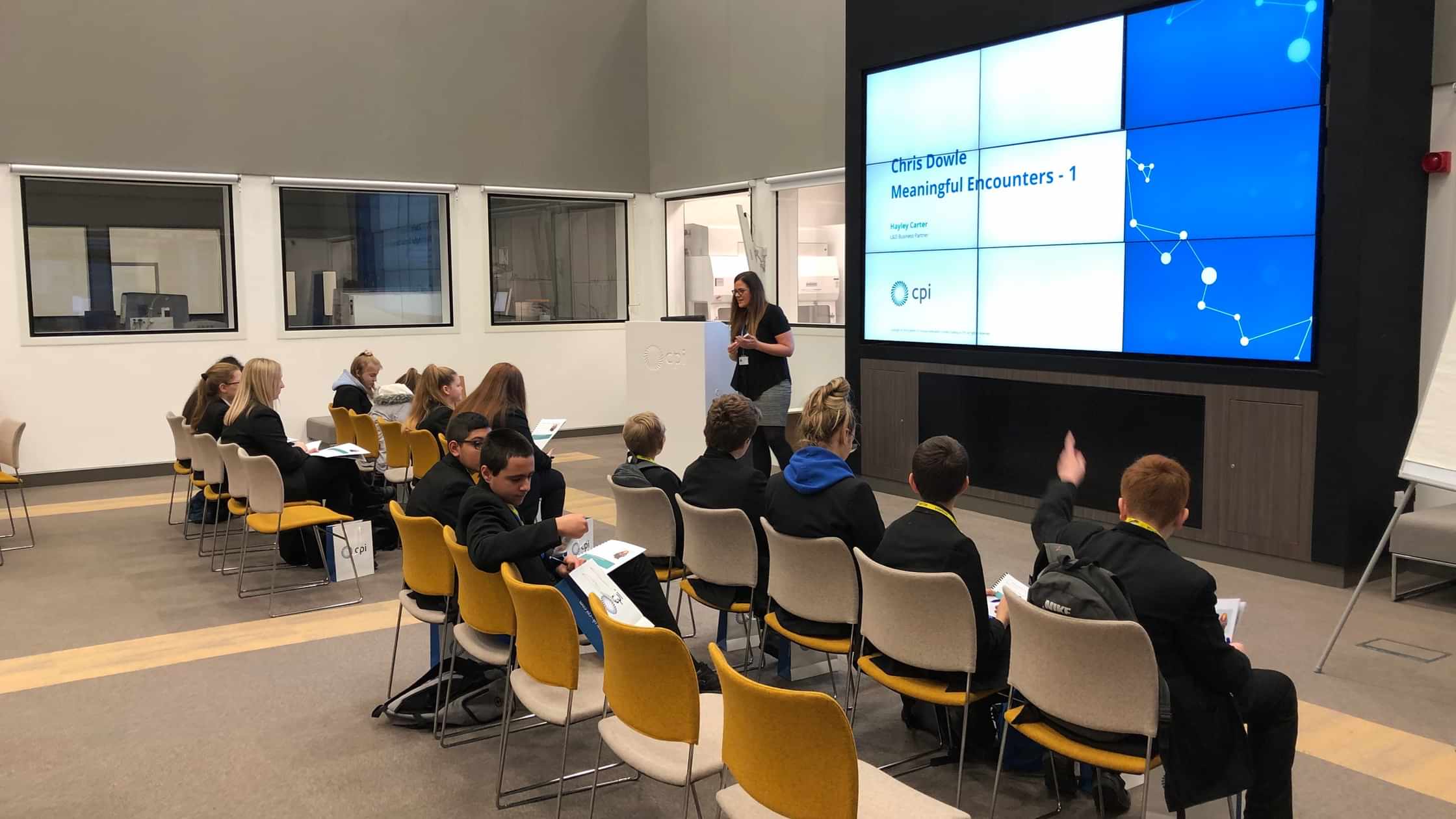 CPI

partners with

MFC

Foundation to deliver ​

'

Meaningful Encounters' community outreach programme
26

Nov

2019

CPI has partnered with the MFC Foundation to deliver the ​'Chris Dowle Meaningful Encounters' programme for students at Thornaby Academy in Teesside. Launched in October, the programme will encourage and inspire young people in the North East to start considering their career options and professional development pathways available.
The programme is being funded by £3,000 raised through CPI's Professional Skills Development Group, and will equip young people with the capabilities needed to transition from education to the world of work. The pupils will learn a core set of skills including teamwork, innovative thinking, leadership and communication. Through this, professional aspirations will be instilled in the pupils, inspiring them to develop their career options earlier and enhance their opportunities in the future.
CPI have been working closely with the MFC Foundation in recent months through the Professional Skills Development Programme in order to raise funds for the work they do to support young people and adults in the Teesside area. The group developed project management skills and worked collaboratively across the whole organisation, building a learning eco-system through activity-based learning.
The MFC Foundation works in some of the most disadvantaged areas of Teesside, engaging with those who are hard to reach through the delivery of inspiring sport, education, health and inclusion projects. So far the charity has delivered over £25m into the community, engaging with over 500,000 people and delivering more than 20,000 qualifications.
A group of 15 year nine students will take part in the programme. This will consist of monthly workshops, two of which will be site visits to CPI's Darlington and Wilton locations. Upon completion, students will receive an Award Scheme Development and Accreditation Network (ASDAN) qualification, which will count towards credits needed for further qualifications.
The programme is named after the late Chris Dowle, who was originally from Cleethorpes and in his own words ​"didn't perform particularly well at school". Despite this, he pushed himself and forged what was to become a very successful career, eventually earning his place as Director at CPI. Chris was extremely passionate about the development of young people, particularly in STEM related careers. Coming from humble beginnings, he understood the challenges young people faced to be successful in such a competitive working environment. Chris worked extremely hard to overcome these barriers, going on to complete a PhD in Chemistry and working in senior positions within several companies before joining CPI in 2004.
Jodie Coe, Director of Organisation Development at CPI said ​"Our vision at CPI is to ensure every great invention is given the best chance to succeed. We do this in many ways, but nowhere is more important than through our people. By connecting the dots between our people and our local community, the programme gives our brilliant, local young people a better chance to succeed in life and our employees the opportunity to give something back."
"Having our own staff leading a project for not only their own personal development, but to potentially have a huge impact on the lives of young people in Teesside is just brilliant and something we are all extremely proud of."
At CPI, our values and guiding principles are at the centre of everything we do. With our staff passionately energising the pupils and inspiring the next generation at the heart of this programme, we believe it epitomises all of our values. Collaboration is a key driver in CPI's guiding principles and the relationship built between CPI, the MFC Foundation and Thornaby Academy has far exceeded what any party could have imagined.
If you would like to get involved or would like more information, please contact Hayley.​Carter@​uk-​cpi.​com

Let's innovate together
To find out more about how we can work together, please enter your details below.