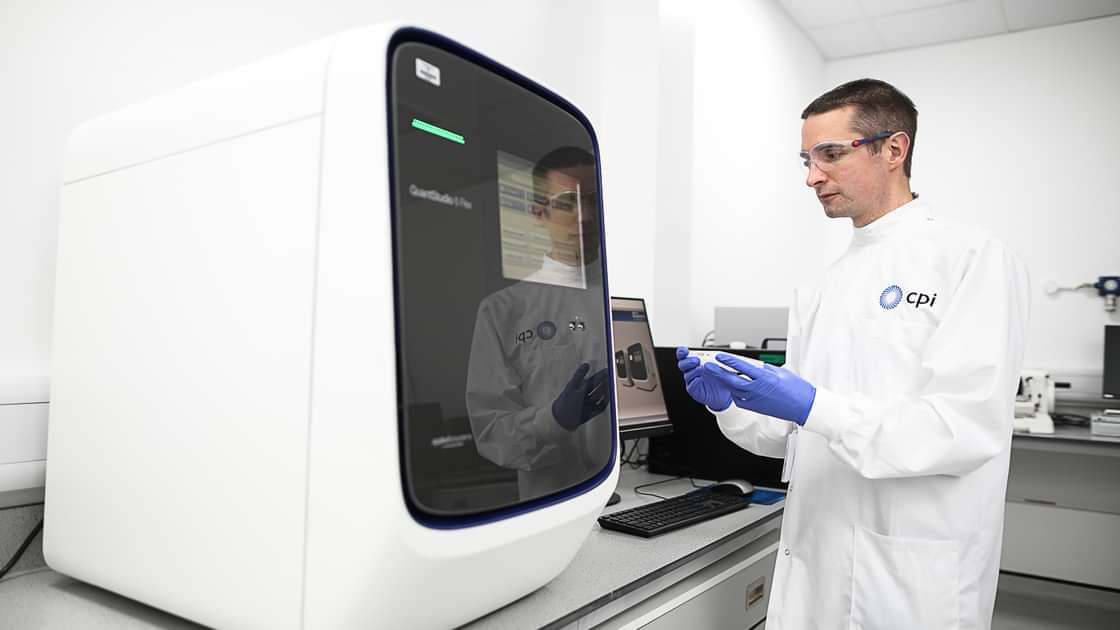 CPI

announces global partnership with Cambridge Design Partnership
20

May

2021
Partnership aims to ensure that transformative diagnostic and healthcare technologies reach patients fast.
CPI and Cambridge Design Partnership today announce a global partnership with ambitious goals: to maximise the potential of next-generation diagnostic and healthcare technologies, to shape the leading edge of innovation into commercial readiness and ultimately to ensure UK leadership in medical technologies that transform the healthcare experience.
UK-based CPI is an independent deep-tech innovation centre and founding member of the High Value Manufacturing Catapult. CPI helps drive organisations through their innovation journey, uniting academia, businesses, and investors to accelerate bright ideas and research into the marketplace. It does this by connecting organisations to a bespoke team of experts, specialised innovation development facilities, funding support and innovation tools.
Now in its 25th year and enjoying record growth, Cambridge Design Partnership delivers end-to-end product and technology development for clients in the healthcare, consumer, and industrial equipment sectors. Cambridge Design Partnership's work starts at the point a business decides on the need for innovation within a market area and finishes with the launch of a breakthrough new product or service that is customer focused and commercially effective.
The partnership enriches the capabilities of both businesses. Cambridge Design Partnership gains access to CPI's specialist expertise and capabilities in development and business scale-up. As a result, it can accelerate its most innovative client projects to market-seeding volumes. Projects at CPI benefit from its GMP and ISO13485 certified Quality Management System, ensuring compliance with relevant legislation and standards. CPI specialises in emergent disciplines such as flexible and hybrid electronics, photonics, biotechnology, advanced materials, and formulation providing game-changing innovation to markets with world-changing potential, such as diagnostics and therapeutic medicines.

CPI secures access to Cambridge Design Partnership's world-leading expertise, built over hundreds of innovative client projects, and a deep, cutting-edge understanding of global market and technology movements in medical technology. This includes novel technologies such as molecular diagnostics, synthetic biology, and advanced therapies. Cambridge Design Partnership will provide expert guidance in strategy, planning, product development, manufacture and due diligence as CPI links the UK's science and research base with supply and value chains. Together, they will drive future growth, and aim to establish the UK as a world leading player in diagnostic and healthcare technologies.
The success of the partnership will be measured in terms of commercial and patient impact. The two companies plan to shape early-stage innovation into investment ready business cases and market-ready products. This will streamline the development of effective products and technologies, providing value to patients within key clinical areas such as infectious disease and oncology. A particular goal is to maximise the impact of the UK's scientific and technology research base, improving the path to commercialisation and the clinic.
Commenting on the partnership, Cambridge Design Partnership's Senior Innovation Consultant Pari Datta said: ​"The UK has a strong science and technology base, with a history of scientific firsts behind many great products now on the global stage. But we don't always spot the opportunities or navigate the path to commercialisation, particularly in the regulated medical space. With CPI, we're working to grow the ecosystem which will discover, nurture and scale these promising businesses, leading to great new products delivering real value to patients, professionals and the UK economy."
Arun Harish, Director of Strategy at CPI added: ​"Increasingly, we're witnessing collaborative approaches to innovation development. Collaboration is at the heart of CPI's strategy as we continue to serve multiple established and emerging industries. We're pleased to be partnering with CDP to develop and accelerate diagnostics and healthtech products, where the potential for innovation is immense."
About Cambridge Design Partnership
Cambridge Design Partnership is a technology and product design partner focused on helping clients grow their businesses. Some of the world's largest companies trust CDP to develop their most important innovations. Located in both Cambridge (UK) and in Raleigh, North Carolina (US), CDP specializes in the healthcare, consumer and industrial markets. Its multidisciplinary staff have the expert knowledge to identify opportunities, product development, short run manufacture and tackle the challenges its clients face. For more information, visit: www​.cam​bridge​-design​.com.

Let's innovate together
To find out more about how we can work together, please enter your details below.