Ellie Price
Degree Level Apprentice – Laboratory Scientist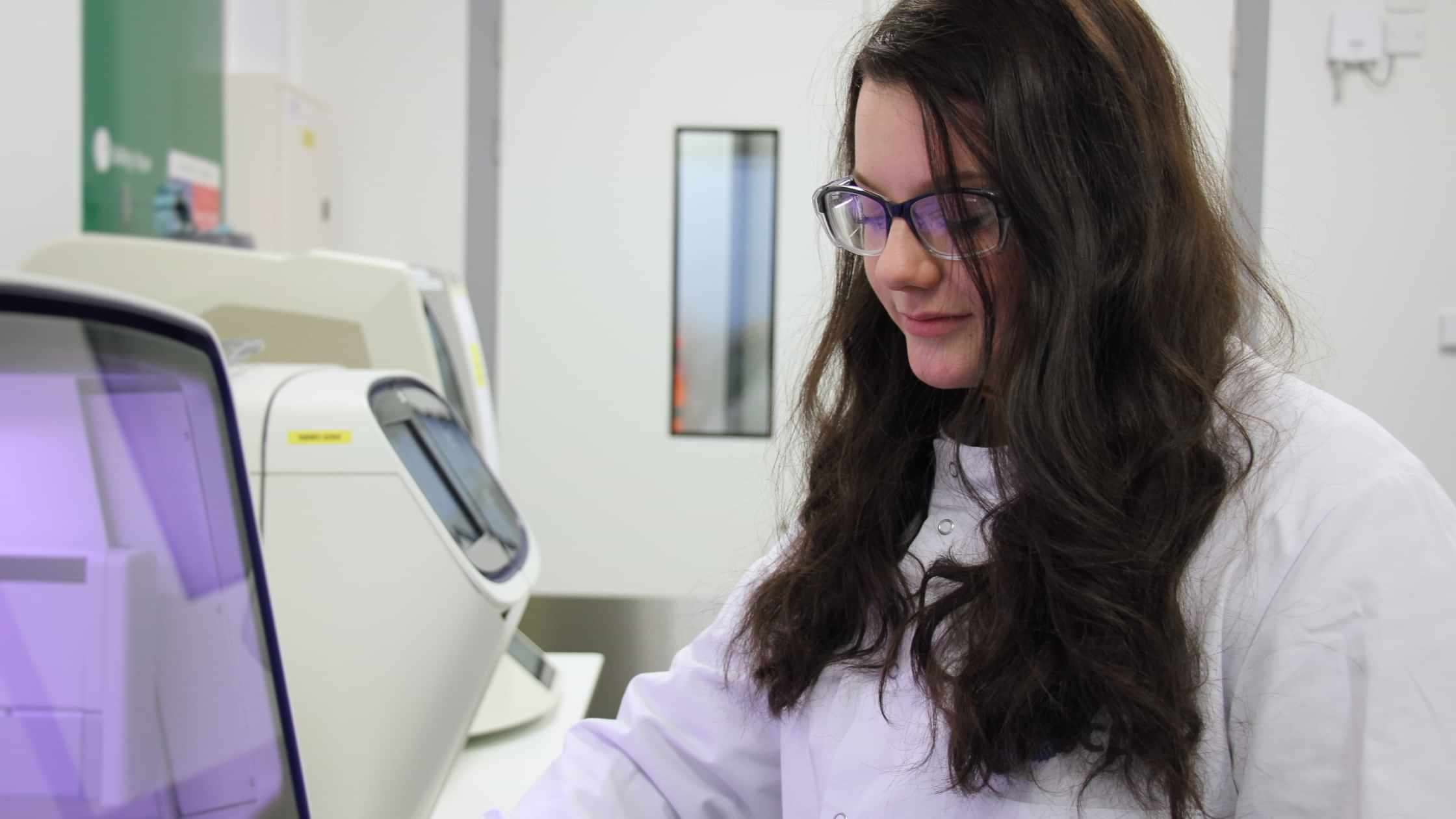 Apprenticeship Experience
Apprenticeship Programme: Level 6 Laboratory Scientist
Current Job Title: Degree Level Apprentice
What did you do before joining CPI?
Prior to joining CPI, I was studying Biology, Chemistry and Psychology a‑level at sixth form. I also had a part-time job in a fast food chain.
Why did you decide to do an Apprenticeship?
I opted to do an apprenticeship as I wanted to continue with my academic studies, whilst also gaining professional experience. CPI allows me to learn new skills from talented experts within the field, whilst also gaining my degree in biotechnology.
How did you find out about the apprenticeship at CPI?
Apprenticeships were not the focus at sixth form, so I done a lot of independent research into the different types of apprenticeships and I found the apprenticeships that CPI offer whilst searching websites. I read all about the work that CPI does and applied straight away!
What appealed to you about an apprenticeship as opposed to other further learning or study programmes?
This apprenticeship allows me to apply the theory that I learn at university to real situations at work. Furthermore, I get the opportunity to earn a degree and have five years' experience working in a professional environment. Apprenticeships provide many different opportunities that may not have been available in full-time education.
What was it that interested you in the subject area your apprenticeship is in?
I have always been fascinated by science, so I studied triple science at GCSE and then Biology and Chemistry at A‑Level. My dream to pursue a career in science was further highlighted when I completed relevant work experience during my A‑Levels.
What are your key responsibilities as an apprentice?
I am currently responsible for doing routine equipment checks in the laboratories to ensure the equipment is working efficiently. The apprenticeship also allows me to work with different teams to help with projects, which is exciting.
What is the best part of your apprenticeship?
The way that the apprenticeship has allowed me to learn new skills and has given me a fantastic insight into a real working environment. Every day is different so, I get to work with different people on different projects, which has helped me become more confident. Also, it allows me to earn while I learn which is a fantastic benefit of doing an apprenticeship.
What are your future career goals and how has/​will this apprenticeship help you reach them?
Currently, I am not certain on my final career goal, however, I hope to continue to progress in the scientific field, and eventually make a difference with my work.
What qualities do you think CPI has as an employer?
CPI offers lots of support to encourage you to become the best; academically and professionally. They invest in you and provide lots of opportunity for you to progress and gain skills and experience.
What advice would you give to anyone considering applying for an apprenticeship?
Apply! They are a fantastic opportunity to gain work experience and study.
What has been the hardest or most challenging aspect of your apprenticeship so far?
Initially it felt like a big jump to go from sixth form to a degree apprenticeship, but the amazing support from all my colleagues at CPI made it easy!