My Mam: Ensuring increased life expectancy translates to increased years in good health
Alex explores Healthy Ageing by describing the challenges faced by his elderly mother and the technologies which could solve these problems.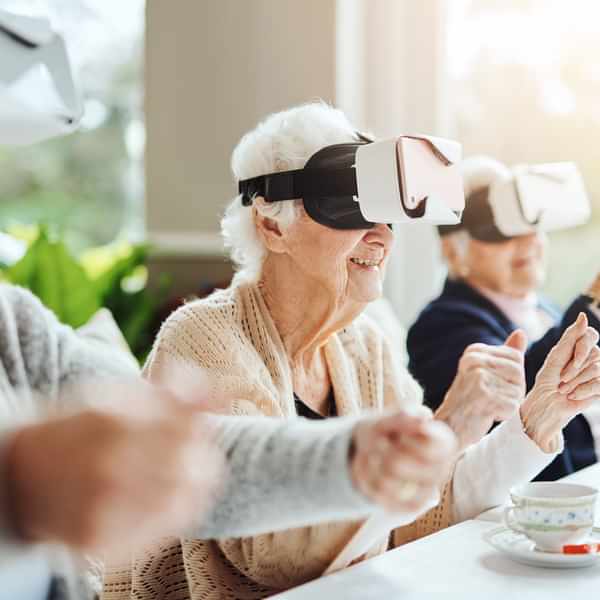 Can I introduce you to my Mam?
Let me tell you a story about my mother. She's 75 this year and lives at home on her own. She has more friends than I do, enjoys crafting and card making with her friends most days, goes on holiday at least four times a year (most of them are UK based bus trips, but she is looking forward to a cruise soon 😊) and spends what appears to be a fair amount of her time sharing cat photos on social media.
This sounds fantastic, a picture of what we'd like to be when we get a little older (maybe with less cat sharing). However, she still asks me to come over every day for a hug, some company and to help her perform some simple tasks.

My Mam sadly had a stroke a month ago which although wasn't as severe as it could have been, has left her with significant sight problems meaning she needs help with reading post, using her smartphone and even understanding what's going on in her favourite soaps. The stroke has also left her with some weakness in her limbs which makes getting around a little bit more difficult and she's more likely to fall so she walks around a lot less and tries to get the bus or a taxi everywhere. This can make her feel isolated and lonely and feel like she's losing some of her independence. Although she's got an amazing set of friends and support structure in place, there are a lot of older people out there who are less fortunate.
According to Age UK's report ​'Later Life in the United Kingdom', life expectancy is rising more quickly than healthy life expectancy. Although people are living longer, they are also spending longer in poor health which can manifest itself in many ways such as challenges to mobility or inability to perform simple daily tasks.

Why is now the time to be thinking about healthy ageing?
According to the Office of National Statistics (ONS), by 2036 there will be a significant increase in the percentage of people aged over 65 (figure 1), with around a 70% increase in the population living past 80. Currently, the ONS estimate that men aged 65 are expected to live another 19 years, with only 10 of these in good health. For women, they are expected to live another 21 years with 11 of these in good health. There are also significant socio-economic inequalities in healthy life expectancy across different groups, as people living in affluent areas are more likely to live healthier lives for longer. This brings us a number of opportunities:
How do we help those individuals that need support to have better, more active and happier lives?
How do we help people to age healthily through life to reduce the risks of developing chronic conditions and needing care?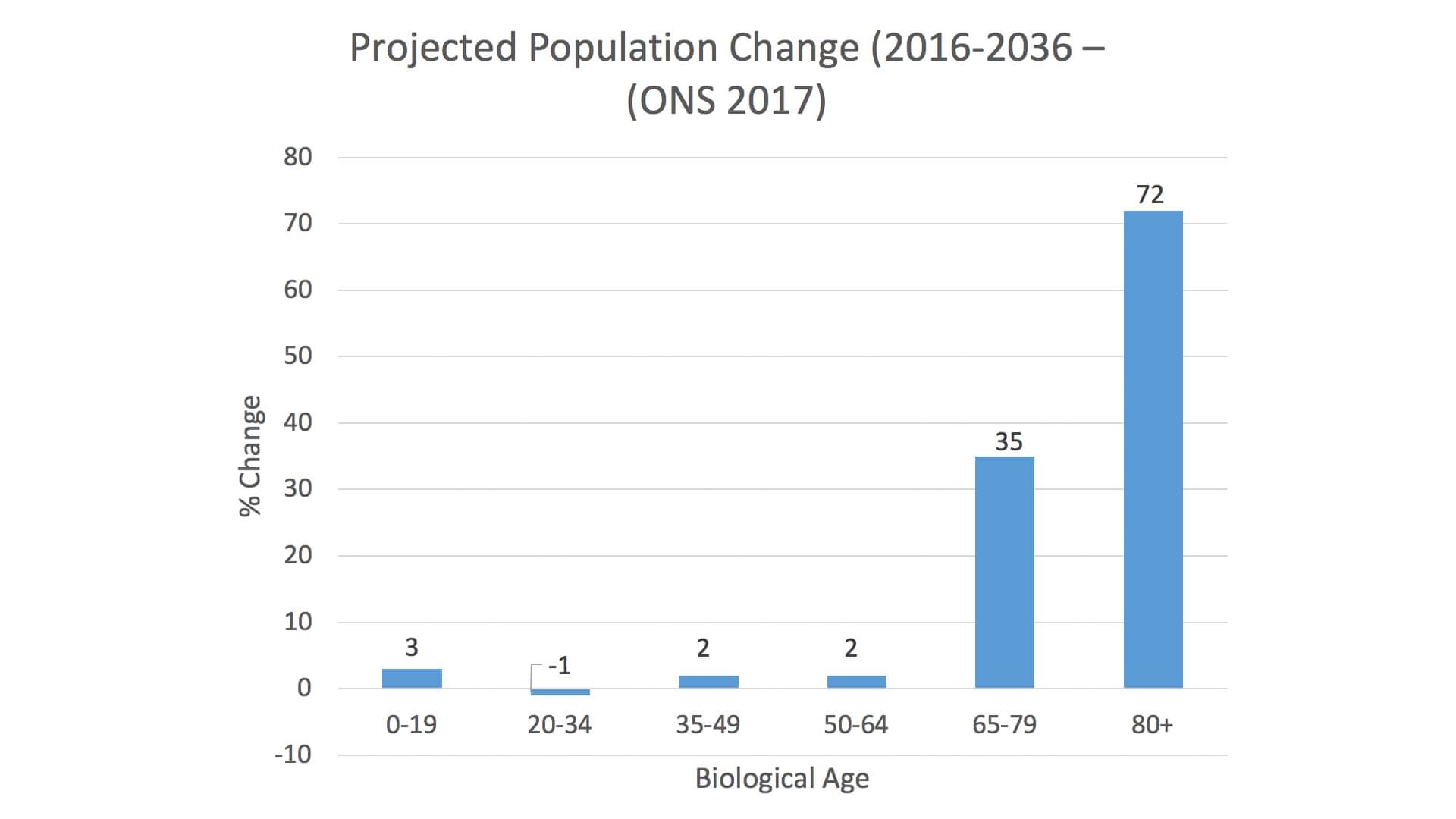 What is ageing? And why is healthy ageing important?
If we now take a step back and investigate what we can personally do every day as biological human beings, we can define this as our ​'functional ability'. This is a person's ability to perform tasks such as walk, eat, communicate, watch TV, play Xbox, be great at football, etc. Functional ability is made up of a person's intrinsic capacity, which is their physical and mental health and their environment or other extrinsic factors.
As we age our intrinsic capacity declines along with our health and our functional ability follows. According to the World Health Organisation, healthy ageing is defined as ​"the process of developing and maintain the functional ability that enables wellbeing in older age."
Healthy ageing is more than simply promoting good health and the treatment of medical conditions. It is about creating the correct products, services and environments to support individuals to maintain their functional ability and be the person they want to be, enabling them to be productive members of society, even if their health is limiting them.
The diagram below shows how functional ability and intrinsic capacity changes through life, from a fully developed person on the left-hand side to someone very old in years on the right (modified from Industrial Strategy Challenge Fund Healthy Ageing Challenge Framework).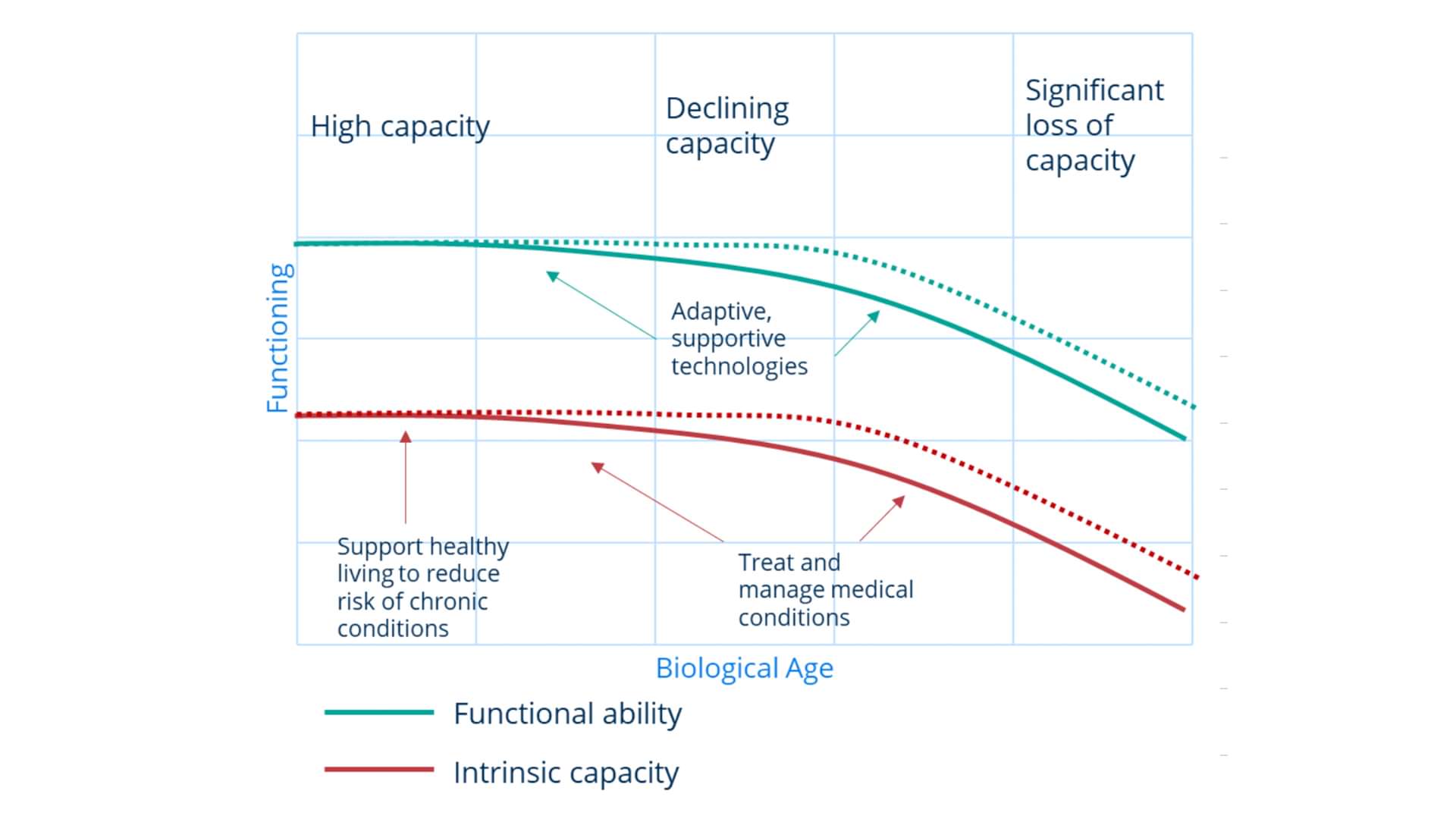 What about the Industrial Strategy?
In 2017 the UK Government produced a document entitled ​'Industrial Strategy: building a Britain fit for the future' which set out a long-term plan to boost the productivity and earning power of people throughout the UK. In August of this year UK Research and Innovation announced the first tranches of competitions related to the ​'Ageing Society' Grand Challenge, which is part of the £98m Healthy Ageing Programme. The goal is to develop and evaluate new products, processes and business models that will support individuals to live an additional five more healthy years. It is focusing on seven themes to stimulate innovation to meet this ambitious goal:

Sustaining physical activity
Maintaining health at work
Design for age-friendly homes
Creating healthy, active places
Supporting social connection
Living well with cognitive impairment
Managing common complaints of ageing.
As a result, the focus of support from the UK Government is to maintain intrinsic capacity through healthy, active lifestyles and environments coupled with innovations to support functional ability that include a person centred design approach. If you're suffering from an age-related condition that is hampering your ability to do what you enjoy, then there's nothing worse than a ​'beige' product clearly designed for an older person that screams out: ​"I'm old". We want products that help but look great and that people would be proud to show off. A perfect example of this is the Ford Focus, a very strong selling car across all age groups, but it is designed with an older person in mind. The designers wear suits to restrict their movements when working on prototypes that simulate what it would be like to be an older person suffering from mobility problems. This is an example of an excellent innovation, it doesn't look ​'beige', but is designed with an older person in mind[1].
The UK Government recently announced the first tranche of funding for Healthy Ageing Trailblazers where they are inviting consortia to bid for up to £6m of funding to develop and demonstrate innovations at scale, which will support healthy ageing. They are asking for large, multi-disciplinary collaborative projects which bring together academics, research and technology organisations, companies and other supporting organisation such as charities and social housing groups in order to be successful.


So what can we do?
At CPI we work with inventors and innovators to ensure that every great invention gets the best opportunity to become a successfully marketed product or process. Our integrated approach to innovation ensures that ideas and concepts have the best chance of making it into the hands of the people who need them. We have wide-ranging technical capabilities from using microorganisms to make new materials or new medicines (biotechnology and biotherapeutics) to getting electronics into flexible formats and enabling sensing, wireless communication and other smart functions. We even work with new formulations to develop materials that might have enhanced surface properties such as anti-microbial, anti-fouling or even imparting properties such as higher friction for better grip.
As a result, we have expertise and capabilities to develop products which support maintenance of intrinsic capacity and functional ability.
Our capabilities in the design, development and scale-up of thin and flexible electronics enable the development of smart and connected wearables. These could be as thin as a human hair, very light as well as being body conformable. We can integrate sensors that can measure things like temperature, humidity, sweat or even vital signs such as heart rate, blood oxygen or blood pressure. Using this hardware, as part of a digital ecosystem, can support people to be more active and help tailor exercise to the individual or even alert if there are any issues discovered with a person's physiology, potentially catching illness before it happens. This kind of technology could also be used to reduce the risk of injury from incorrect lifting or posture, which is especially important in the work-place. Imagine a smart belt or smart clothing with in-built sensors to check whether you're sitting with the correct posture or straining yourself when carrying out tasks at work. We could help to stop chronic injuries before they even happen.
CPI can also work with technologies that help people with mild cognitive impairments such as innovations that support better sight through smart cameras and optical systems, or by supporting walking through measurement of gait and feedback to the individual if there are objects in the way they may trip over. We have recently even worked with a company to develop flexible pressure sensors that are embedded within a crash helmet to be worn during sport and leisure activities, this same technology could be integrated into a number of different materials including clothing. We could therefore measure and report injuries in the most vulnerable.
We have an interest in supporting people to take their medications correctly, as much as 50% of people with chronic long-term medical conditions do not take their medicines as they should. Embedding flexible and printed electronics into medicines packaging or medical devices such as inhalers can support individuals to remember to take their medications and remind them if they have forgotten. This way we can support people to get the best treatment possible to maintain their quality of life.
There are a whole host of opportunities on offer when working with CPI to develop new solutions, plus, everything we do has scalability in mind. We are the ideal partner to, not just develop new solutions, but also to scale them up to market demonstration levels.

My beautiful ​

'

Mam'
I love my Mam very much and I am proud that she has a happy life, but I strive every day to work closely with innovators who have great ideas of how to make her life better. If you have a great idea that can help someone like my Mam see better, get around better or connect with her friends and family better, I'd like to hear from you. If you have ideas of how we can support people through life to age better or support them in later life to have much healthier, happier, more mobile and more connected lives, then please give me a call. We can work with you to help you develop your products and services right away, or by building consortia to develop these products and services with co-funding from the UK Government.
Together we can make more people smile, for longer. Everyone deserves that.


[1] The Ford Focus used to be available in beige, if that's the colour you wanted.
Enjoyed this article? Keep reading more expert insights...
CPI ensures that great inventions gets the best opportunity to become a successfully marketed product or process. We provide industry-relevant expertise and assets, supporting proof of concept and scale up services for the development of your innovative products and processes.
Stay updated with our insights by signing up to our newsletter